We often get questions from curious Museum guests about the window screens we have created, hanging in The Studio's windows.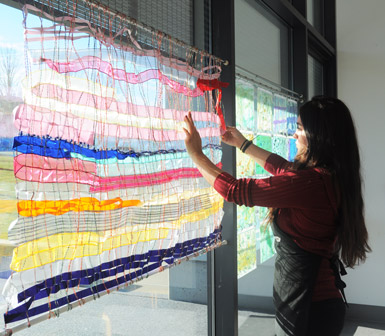 The Ribbon Window Shade uses some of the same materials as our Plastic Cap Window Screen and is a good way to explore the art of weaving.  It also provides some shade during the sunny weather that should be on its way soon!  Here is a list of supplies you and your child will need to make a window weaving for your home.
 

Materials: Two tension rods that fit your window, Duct tape to secure the rods, colorful wire, ribbons, strings, fabric strips, and yarn (or any other weaving material).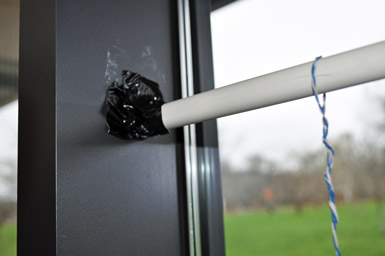 First, you will want to put both tension rods in your window and secure them well so that they don't move or shift when you start weaving.  Our window is 58 inches wide and we hung the two rods 36 inches apart.  We found that we needed some duct tape around the ends of the rods to attach them to the window. If you try this at home or in your classroom, you may need a temporary support to keep your rods stable once you begin wrapping the wire and weaving the ribbons.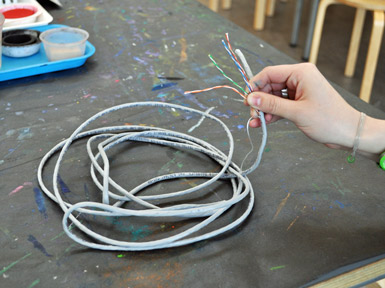 The wire that we used is the same cable wire that was used for the Plastic Cap Window Screen.  It is colorful cable wire that comes in a gray or black casing which can be easily peeled off to reveal the colorful wires.  I suggest cutting the wire while still in the casing into lengths that are double your window length, at most.  I began adding the warp (the vertical strands in a weaving) by looping the wire around the top and bottom rods and securing the wire into place by wrapping the wire back onto itself. We ended up doing 60 strands of wire (just under an inch apart) to fill our window, but you may need to do more or less depending on the size of your window.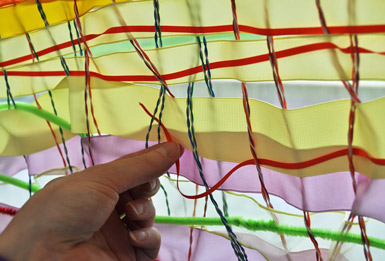 We have quite a collection of ribbons, strings, fabric strips, and yarn and we found that starting the weaving at the top with some of the wider ribbon works well to get the pattern started.  To weave you should begin by pulling the ribbon OVER the first wire and UNDER the next and continue this pattern until you reach the other side. Starting the next ribbon with an alternating pattern will create a fabric-like weaving.  Don't be afraid to mix up your weaving by going OVER two wires and UNDER the next one or making up any other weaving patterns you would like.  Whenever you run out of one ribbon or string, pick up a new one and keep going.  We tucked some of the ribbon ends into place behind a wire but also stapled a few together so they would be more secure.  We liked adding some of the thinner string in front of the thicker ribbons so that there were a few layers on top of each other in the weaving.  It is fun to experiment with whatever materials you are using to see how the textures and colors look with each other. Just be sure that you don't pull the ribbons so tightly that they pull on the end pieces of wire.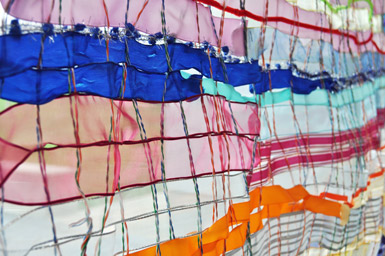 I hope you get to try out making your own window weaving, and please take a look at our other window display tutorials:

Window Color Wheel
Rainbow Window Shades
Plastic Cap Window Screen

We would also love to hear about any other method you used to make a window weaving so please leave a comment on the Scholastic Parents Facebook page to let us know what you did!