We're now a month into 2014.  It seems like a great time to review those resolutions.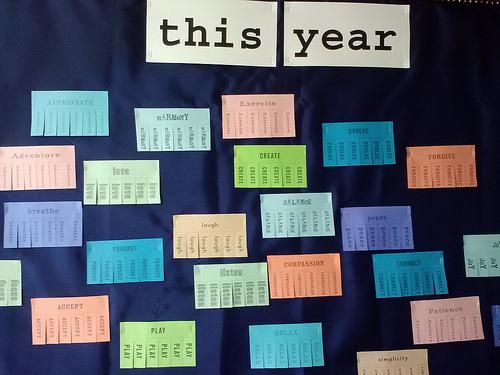 Photo Credit: robinsan via Compfight cc

Dr. Roshini Raj, the medical host on Good Day New York, The Today Show, and a good friend of ours here at Adventure to Fitness, recently reminded viewers that it takes at least 21 days to form a habit.  We're now past that point on the calendar.  Did your plans make it this far?  Chances are, you're like the majority of people, and didn't make it to the end of January with every goal.  That's ok.  Most people set incredibly ambitious goals, ones that prove unsustainable.  Rather than beat yourself up, let's regroup and develop more realistic plans for the rest of 2014.

The most common goal for families is to lead healthier lifestyles.  If we break that down, it means exercise and healthy eating.  So, how can you do that with your family?

Let's start with exercise.  You don't need to run a marathon every week. The CDC and nearly all medical experts recommend that children get at least 60 minutes of exercise per day.  So start by just thinking about that number. How will you make 60 minutes of physical activity happen? It doesn't have to be all in one go. A great strategy is to split exercise into short bursts throughout the day.

A few ideas:

?    Sign up your children for a sports league in school or in your local community.
?    Take kids to the park or playground.
?    Take kids swimming at a nearby pool or beach (right now, of course, this is only an option if you're lucky enough to be in one of those eternally warm states).
?    Take kids to a zoo or museum, where the whole family will do its fair share of walking.
?    Have a play date with a friend and send the kids outside to play a game of tag or soccer. If you get involved, they'll have more fun and won't see it as a chore.
?    Take a walk around the block with your family. It's great family bonding time and it also provides some low-impact, moderate exercise.

It's tougher on days that are extremely hot, very cold, or raining but exercise is still possible.  There are lots of great activities you can do from the comfort of your own home.
[brightcove:2897787851001]

Our program is also perfect for indoor exercise. Approximately 20,000 schools across the U.S. use it to get kids moving while learning, right in the classroom, in a fun and exciting way!

The second half of the healthy-lifestyle equation involves healthy eating.  Again, you don't have to suddenly start serving spinach and kale smoothies for dinner.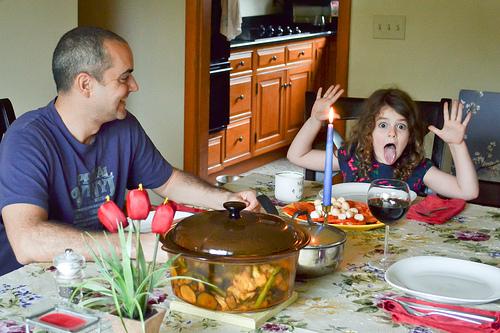 Photo Credit: hlkljgk via Compfight cc

Start by involving your family in food selection and preparation, and by making at least a few nights out of the week mandatory family-meal nights.  Studies repeatedly show that family meals lead to benefits across all areas of life -- for both you and your kids. Researchers find that children who have regular family meals are 35% less likely to engage in disordered eating, 24% more likely to eat healthier foods, and 12% less likely to be obese.

Aim to start preparing something WITH your kids… once a week, once a month, or whatever is reasonable for your family's schedule. A perk: Cooking with your kids means you get to spend more quality time with them, something every parent wants. Plus, you can make it a learning experience beyond just reinforcing the importance of healthy diet. Buy kids' cookbooks for them to work on their reading skills while getting healthy in the kitchen! Also, have your kids do the measuring of ingredients to reinforce working with fractions and arithmetic. Here are a few easy and fun recipes to get you started.

In terms of what to eat, the American Heart Association recommends that you serve a variety of fruits and vegetables every day for your kids.  Aim to serve at least one fruit or vegetable per meal.  Additional recommendations include serving fish, chicken, and other lean protein, low-fat dairy products, and whole grains.  Here are some specific guidelines and a useful chart for parents.

Research has shown that children who exercise regularly and eat healthy when they're young are significantly more apt to continue this pattern throughout their lives.  As you review your family's resolutions for healthier lifestyles in 2014, it is important to remember that they have a lasting impact on your children.  Make sure the goals are attainable.  Most importantly, make regular exercise and healthy eating ongoing priorities in your lives. Do that, and the rest should fall into place.