Hello! I'm Meghan Burch and I'm an Educator in the Art Studio at The Eric Carle Museum of Picture Book Art in Amherst, MA. My co-educator, Diana MacKenzie, and I, are so excited to introduce ourselves to the Scholastic community.
The Eric Carle Museum of Picture Book Art's mission is to inspire a love of art and reading through picture books, so we are thrilled to be partnering with Scholastic Parents to share our meaningful experiences with children and art.
We hope you will visit The Carle's website to learn more about our mission, exhibitions, and educational programs and our blog, Making Art with Children, to learn more about the Art Studio.

Our studio space is blessed with an entire wall of windows on our South side. That means, in the months of short days, the sun's glorious rays stream right in...to our eyes. That kind of direct light is great for feeling like a cat-- relaxed and drowsy, but sometimes tricky for working.
 


As you can see, we've turned the slight architectural inconvenience into opportunity! Every November we break out the tension curtain rods and dream up aesthetically pleasing ways to shade our worktables.  I've been a little obsessed with rainbows and the spectrum lately so with lots of help from our volunteer, Cindy, and more help from other volunteers we put this together.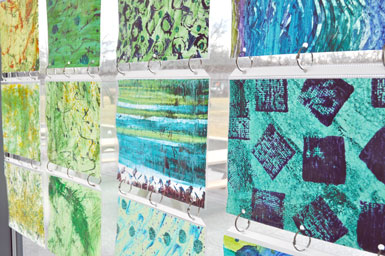 The papers might remind you of Eric Carle's pictures.  Most of them were made in one of my Eric Carle Tissue Paper Workshops. The workshop goes over the nitty gritty of adapting  Eric Carle's processes and techniques to create unique collage papers with students or just yourself.
 

You could make similar papers yourself or with kids using with paint, tools like our Silly Brushes, and tracing paper, but any art that is 8.5" x 11" would work. We put the papers in plastic document sleeves and then used a 3-hole puncher to make holes for the 1" binder rings that connect the sleeves together.  

We've used this display method before and have noticed educators and parents taking pictures and talking about how they would use the idea in their class or at home. A few have even come back to tell us about their versions. A local class displayed theirs in an area restaurant.  One teacher said she used paper clips instead of binder rings. The possibilities are up to you!

Is this idea inspiring to you? Tell us on the Scholastic Parents Facebook page about how you might or have used tension rods, document sleeves, and binder rings in your home or classroom.