It's a good idea to start the new year out with cleaning up your device and thinking about the system settings that would work best for your child. We have many suggestions that you may consider for your iOS device.
System Settings Tips

Airplane Mode Turning on "Airplane Mode" turns off the Wi-Fi, Bluetooth, and cellular data, so this could be a good option to use when your child is using the iPad so that he can't get on the Internet or be interrupted by incoming notifications. Be aware, many apps won't work without an online connection. Wi-Fi can be turned back on when airplane mode is on.
The Accessibility setting on an iOS device has features that can help young children, older adults, and people who need assistive technology.
VoiceOver turned on will speak the items on the screen. You may want to try this setting out. It may be distracting for your child (it is for us), but it's awfully nice for reading the items on the screen to your child.
Zoom magnfies the whole screen. If your child has difficulty seeing the screen, this is the setting to check out.
Speak Selection will create a "Speak Button" that will appear when you select text. You may find that VoiceOver is too much since it speaks every little thing on the screen. You may just want to use "Speak Selection" with your child.
Larger Type will adjust the type to your preferred reading size within apps that support Dynamic Type.
Subtitles and Captioning turns on closed captions or subtitles when available. You may want to experiment with this one to help your child connect written words to language.
Guided Access restricts the iPad in a single app, and lets you control which features are accessible. To use guided access, triple-click the Home button in the app you and your child will use. This is a nice feature to have available if your child needs to be restricted to one app at a time, like in a quiet place.
Home Click Speed allows you to adjust the speed of clicking on the home button if your child needs to click slower.
Multitasking Gestures: When Multitasking Gestures is on, dragging fingers across the screen can cause the app to change, just like changing the channel on a TV. We suggest turning Multitasking Gestures off when your child is using the iPad.
Lock Rotation and Mute are options for the side switch on an iPad. You can choose which feature you want the side switch to control. Mute is also controlled in the Control Center. You may want to lock rotation when your child is using the iPad so that the screen does not move when the iPad is turned from portrait view to landscape view.
Passcode Lock is used to lock your iPad. Here's where you set up your passcode. If you use a passcode lock, it is VERY IMPORTANT to turn off "Erase Data." Otherwise if your child attempts to put in the code and fails 10 times, all of the data, photos, email, and messages on your iPad will be erased. We have discovered that if you install your company email on your iPad, sometimes the security of the company email requires a Passcode Lock. It may also require that the Erase Data is turned on. In this case, be careful. Either teach your child the Passcode Lock code, or back up often.
Restrictions allow you to control whether your child can use specific apps, install or delete apps, view your contacts and calendars, or use Twitter and Facebook. You can restrict which movies on your iPad your child can view. The volume limit can even be controlled for your child. Built-in iPad features, like Siri, iBooks, and iTunes Store can also be controlled here. We recommend that you use Restrictions to turn off installing and deleting apps and making in-app purchases. Otherwise it is easy for a young child to hold an app long enough for it to wiggle, then touch the "X" to delete the app. Also, apps may have ads or buttons to purchase an upgrade. Turn off in-app purchases to prevent this. Many parents also use this setting to block access to the App Store to limit the "begging" for new Apps.
Split Keyboard turned on allows you to put your thumbs in the middle of the keyboard and drag your thumbs toward the left and right edges of the keyboard to split it in half. People who do a lot of texting like the split keyboard. You may want to decide if you want to use the split keyboard with your child.
Reset will reset all settings, erase all content settings, reset network settings, reset keyboard dictionary, reset home screen layout and rest location. Be careful not to show your child where this setting is. Back up regularly just in case.
Wallpapers & Brightness: You can choose a photo for your lock screen and a wallpaper for the background behind the apps. It's fun to use your child's photo on the Lock Screen.
Location Services can be turned on in the Privacy settings. Find My iPad allows you to locate your iPad on a map, send it messages, and remotely lock or erase it. This is wonderful if you have misplaced your iPad, if it was stolen, or if it fell into the toybox or hid under the bed.
--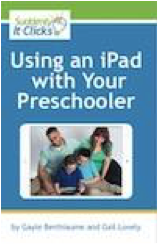 Be sure to check out our book Using an iPad with Your Preschooler for even more apps and ideas! Share your thoughts on the Scholastic Parents Facebook page, via email: Gail­-Gayle@SuddenlyitClicks.com, or tweet us at @suddenlyclicks.