Every year, the week-long program we teach here at The Carle called Animals, Art and Imagination marks the end of the summer for us here in The Studio.  It's always a fun week, and this year we welcomed another crew of enthusiastic art-makers to The Art Studio and Farm! One new activity we added this year was making Nature Faces...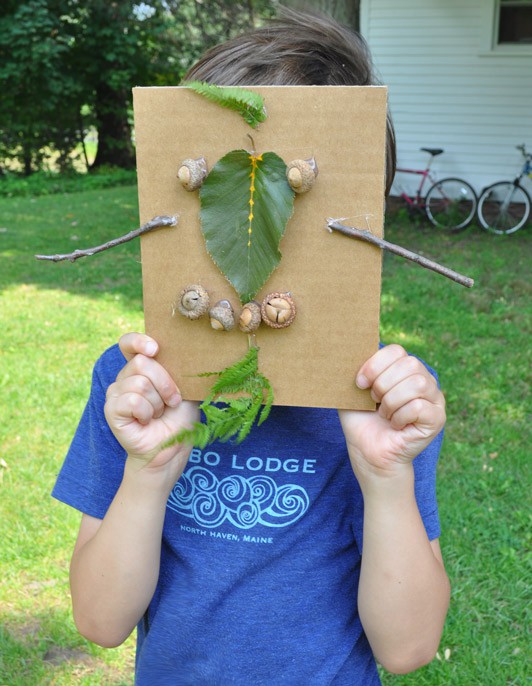 On one of our daily walks to the Hampshire Farm, we all worked together to collect acorns, sticks, stones, leaves and feathers that could make interesting parts of a face.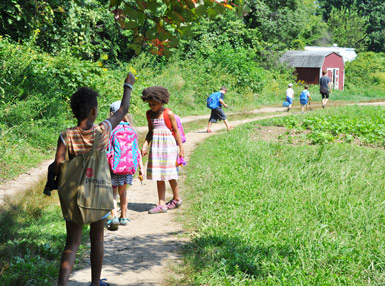 At the farm house the kids arranged their favorite objects from the collection, and the instructors (myself and our program assistant, Sam Wilson) used the wireless hot glue guns to secure the objects to the thick cardboard backings. To prepare the backings beforehand, we glued three layers of cardboard together into larger pieces and cut them down to size once they were completely dry. The cardboard was a good option because it's light-weight, but still sturdy. You could also use scraps of wood if the edges were sanded smooth.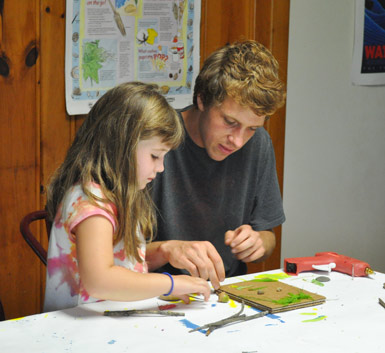 You could have the children glue things down themselves if you had several low-temp glue guns. Ours are super hot and not child-safe, so decided against having the kids do the gluing themselves. I chose hot glue to secure the objects quickly and without much mess since we needed to be able to paint the faces right away. If you had more time between construction and painting you could use a thick glue like Aleene's Tacky Glue instead.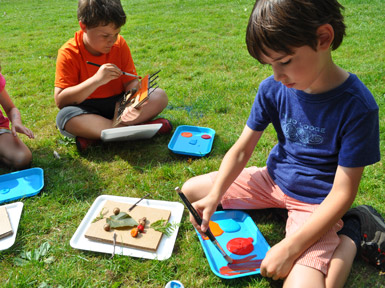 It was a hot afternoon in August when we did this activity, so for the painting portion I set everyone up in a slightly shady area on the grass. As you can see, it kept everyone very focused! At first I provided them with the paint colors I had on hand: orange, red and turquoise. Many of them wanted to make green, so I added yellow to their trays too. I recommend providing small amounts of paint -- they didn't need very much to cover their faces.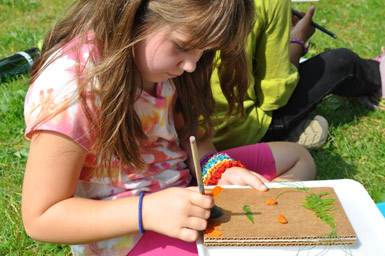 Everyone got their own tray for mixing tempera paint colors, one brush, and a foam tray to pick up any stray brush strokes.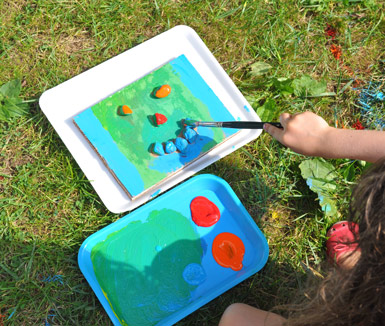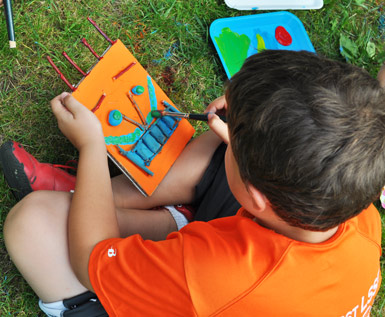 The tempera paint dried really quickly, and the kids were able to bring them home that same afternoon.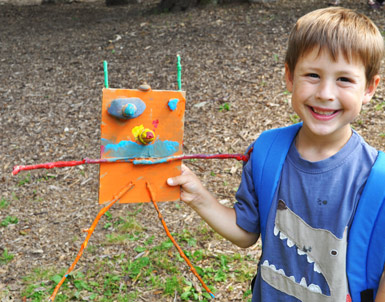 I got my inspiration for this activity from a pin on Pinterest. The original source is Arty Farty Workshops on Flickr. This was one of my favorite projects from the whole week, and I could tell the kids really enjoyed it too. If you try it out, send us a link to your photos! For more art and nature ideas, visit The Carle's Pinboard: Bridging Art and Nature.