Teachers often ask us, "What simple tips do you give parents to engage their children at home?" Parents often have the best intentions and want to connect with their children, but some just don't know how to do it. They don't know the right questions to ask -- or the right activities to do -- that get kids engaged, inspired, and motivated.

It's an unfortunate reality, this parent-child "gap," but it is the case for some, nonetheless. These problems are exacerbated by our modern lifestyles, where our homes are increasingly dual-working-parent arrangements and kids only see Mom and Dad for a few hours per day.



by More Good Foundation on Flickr


So this week I wanted to think about how parents, with limited time and resources, can still forge a meaningful bond around wellness and learning. How can parents get their kids motivated about health, fitness, and education every day?

There is still one "sacred" time that most families have, all together, even if it's only occasional. I'm talking about family-dinner-time, of course! Read on for a few ideas to make the most of your family's meals.

1. Include kids in the process and they're more likely to eat healthy.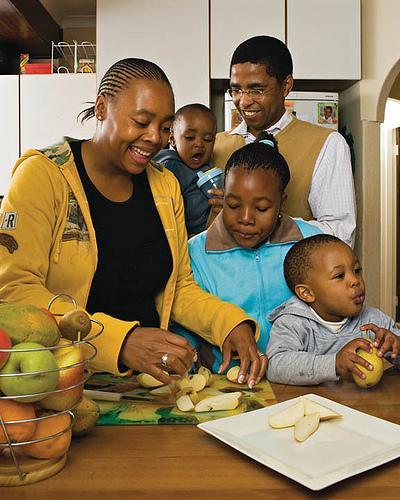 by More Good Foundation on Flickr

Studies have demonstrated that families that eat dinner around a family table tend to make healthier food choices overall. So, just the fact that you're taking the time to cook dinner is beneficial to your child's diet and nutrition.

But we've all sat at a table and pleaded with our kids to just eat the darn veggies already. Including kids in the process of obtaining, preparing, and cooking the food as much as possible is a great way to overcome the picky-eater syndrome. The more involved kids are in the process of growing (yes, that's right: real, healthy food must be grown) and preparing their own healthy meals, the more likely they are to eat them.

You can implement this tactic at home with a home garden. Ask your local garden supply store how to get started, and grow items that are suited for your region's climate. In the New York area where Adventure to Fitness is based, those are things like tomatoes, hot and sweet peppers, basil, and sweet potatoes. A home garden can become a center of family activity over the years, and maintaining one with your kids is a great way to bond.

If home-gardening isn't an option for you, see if your area has a community garden nearby. Gardens are vibrant hubs of healthy, social activity, and it's wonderfully enriching to help kids forge meaningful relationships with nature.

Finally, if none of the above pans out, take your children to the grocery store with you and have them select healthy foods. It might not be as refreshing as some time outdoors, but it is great for working on object identification, reading, and navigation skills (and, of course, eating right!).

2. Don't let them dawdle while you cook.

Now that you've included kids in the process of obtaining the food, next comes the cooking part.

If you're dicing carrots, then ask your child to wash them beforehand. If you're seasoning a roast, your child can help you mix the herbs. Think about the tasks that are safe and easy enough for kids to do and that get them involved in the process. As mentioned above, this involvement will only enhance their overall food choices.

Admittedly, some tasks in the kitchen are better left to the adults. When those times come, turn to your trusty kitchen bucket, which I mentioned in my blog post on ways to keep kids active in their daily routines. As a reminder, your bucket should be filled with items like board games, drawing supplies, puzzles, building block sets, anagrams, and so on. Of course, you can also use my favorite solution to get them moving and burning some calories before dinner by simply clicking play on one of our adventures.


3. During dinner, focus on "table topics."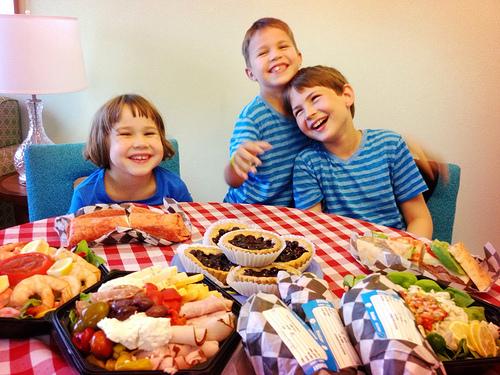 by Christopher Elliott on Flickr

Dinner time is one of the most focused moments all day, so it's important to come with some tools from your toolkit.

Table topics help stimulate conversation. Each day, take 10 minutes to think about what your table topics will be that night. If you are an Adventure to Fitness subscriber, you already have this taken care of since we include topics for conversation in the parent guides for our adventures. For those who don't subscribe to our program, there are plenty of ways to come up with these on your own.

You can always resort to the old classic, "What did you do in school today?" When they inevitably come at you with "nothing," or "I don't know," push through and persist in getting a real answer. Ask them to repeat something from each of their classes back to you. Don't let them off the hook! As your children get accustomed to what is expected of them at dinner, it will feel less and less like pulling teeth each time.

Also, ask your kids about their friends, social lives, and any bullies. Speaking to your children in a soft, mild-mannered tone will communicate -- both implicitly and explicitly -- that they can tell you anything. When they're young, they do this automatically, but it is an important notion to instill early in life so that when bigger problems come down the road (and they most likely will) your kids trust you to help them.

Table topics shouldn't be all business, though. Something we used to do in my house was tell riddles at dinner. Looking back on it, it was a really fun way to stimulate our minds without diving into the academic sort of material that already filled our days. And with the Internet, you never have to worry about ending up with a shortage of new thinkers. Here's a great site to get you started.
How do you make the most of dinner time? Share your suggestions on the Scholastic Parents Facebook page.