A color wheel is a great way to introduce children to basic color theory. A standard art room poster has circles of the different colors and lines connecting primary and secondary ones. Instead of just hanging up a poster, make your own color wheel with children.

Supplies Needed: Water, food coloring, plastic bags (zip-top bags), heavy-duty clear packing tape, fishing line and a tension curtain rod.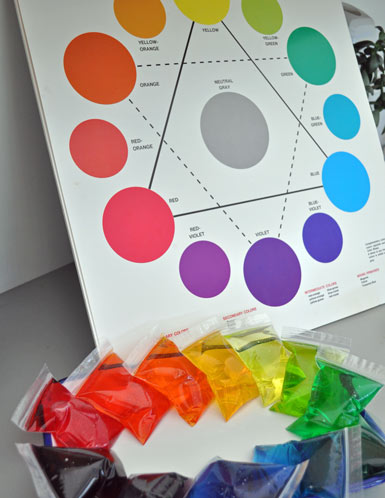 Steps:

1. Have your child use food coloring to mix the color wheel in cups of water. (Smaller kids may need help, and since this can get messy, you might want to do this project outdoors.)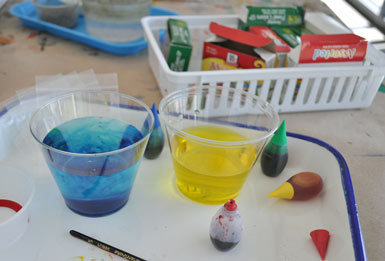 2. Once the colors are mixed up, transfer the water to small zip-top bags — you can find these bags at Michael's craft store or from an online shop like Bags & Bows.
3. Have your child use heavy-duty clear packing tape to reinforce the top of each bag. Then, either you or your child can poke a hole in the space above the bag's seal to tie fishing line through. 
4. Fit a tension curtain rod in your window. Then tape a paper circle to the window to use as a guide for tying each bag to the curtain rod. Leave plenty of extra line on each bag so you can make adjustments and trim the excess when you're happy with the bag's placement on the tension rod.

5. Stand back and enjoy -- especially on sunny days!