Many kids love to imagine themselves, and dress up as, superheroes. My son even wore his Batman cape to bed! Capitalizing on children's interest in superheroes makes great sense, especially if we can find ways to involve them in reading, writing and creating. Here are some fun, child-tested activities to give your young hero some extra super powers.

Reading

Look for books about superheroes. I admit the book-snob lurking inside me turns her nose up at some of the books churned out about movie heroes. But I truly believe that we need to encourage kids to choose books they like. If you find such books difficult to read aloud, perhaps kids might enjoy using the illustrations to make up their own stories, or you can discuss the pictures together. Ask your local librarian for help in tracking books down, or check out this list of 10 Great Superhero Picture and Chapter Books for Kids. Keep an eye open for books about real-life heroes too. We can learn a lot from accounts of others who have risen above adversity, and some children prefer to read non-fiction.

Create a book nook around the theme of superheroes. Back some furniture with posters or images, throw cushions or beanbags down, and suspend colorful paper lanterns above, each decorated with a cheap paper superhero style mask. Have your kids' favorite superhero books handy for poring over. Provide a dry-erase board and some paper in case kids are inspired to create stories and pictures themselves.

Ask your kids to think who their favorite reading super hero is. They might find some inspiration in this recent Scholastic contest where Australian kids nominated heroes who inspired them to become readers.

Writing

Writing is lots more fun for some kids when it is short! This is where comics can be wonderful. Show your kids some of the great online sites for devising a superhero avatar. (Remember always to supervise your children online.) Some sites allow you to save your avatar, or you can take a screen grab to record it. This image can then become the focus of a story. Encourage children to talk about their creations. They might like to develop a story (with your help), and even add captions and dialogue to image(s) in speech bubbles. Software such as Comic Life provides multi-paneled templates you can drop images into.

If your kids love LEGO, introduce them to Reasonably Clever's Mini-mizer. Here they can create a figure that looks a lot like a minifig. They can accessorize their avatar by adding a cape and a mask. You might prefer to check out the Classic Kid-Safe Mini-Mizer.  To make my sample comic below, I added Mini-mizer images to filtered background images in Comic Life 3 panels, but children could draw their own versions or add speech bubbles to printouts if you'd prefer.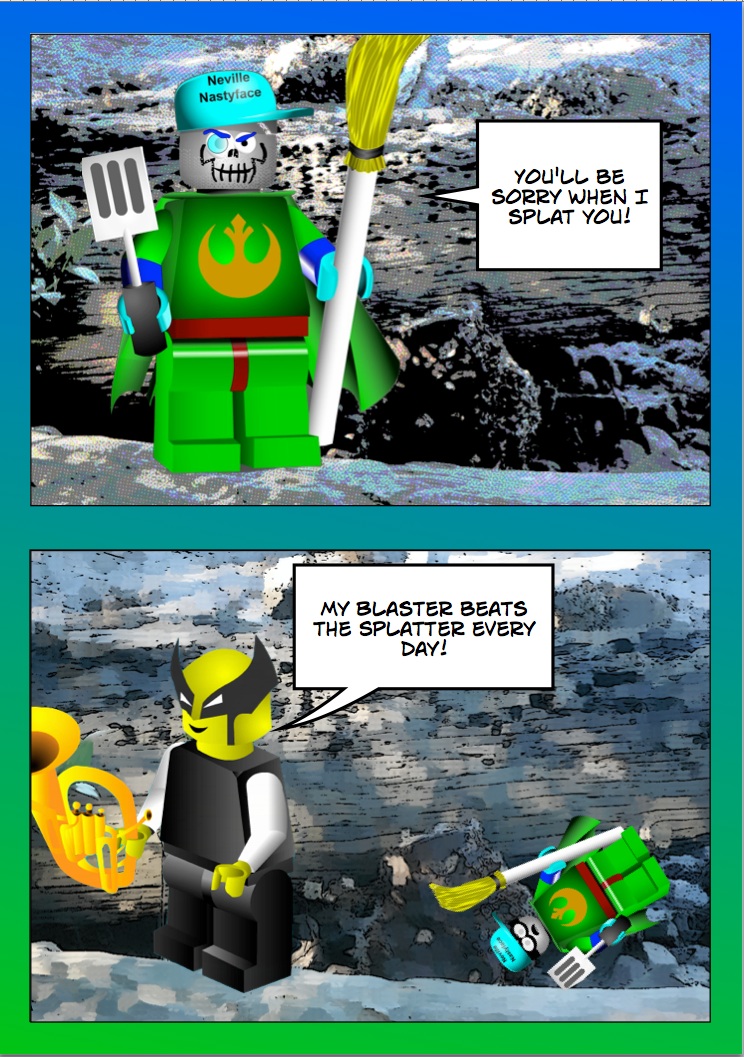 Marvel has a comic maker and a superhero avatar maker with characters like Spiderman, Iron Man, and Wolverine. Hero Factory is another website where children can make their own superhero avatar, although some parents may prefer more realistic human figures. You can see a sample in my article Creative Prompt -- Start with a Hero.

Scholastic has a comic editor called Make Your Own Captain Underpants Comic. Here they can use Dav Pilkey's art work to devise a comic of their own.




Of course, kids can also dress up as superheroes, or draw, and use those images to illustrate stories they write.

Creating

Why not encourage your kids to prepare and host their own superhero party? Think of all the learning involved! Figure out a budget, and then have them organize recipes, supplies, invitations, decorations, and activities. Can children think of hero-themed games to play or work out what super heroes like to eat?

Another possibility is to create a superhero-themed board game. Start kids off by researching board games they already know, then decide on a format. Will there be a route to follow around a board? What rules must players follow? Will there be cards to read at certain stages of the game? What markers or other game pieces will be needed and how to construct them?

Making the most of our youngsters' love of all things superhero by encouraging reading, writing, and creative activities is a top idea. Not only will our kids have loads of fun, they'll also be developing special powers -- in learning!