During our Every Day Art project From Found Materials to Flowers I wanted a light table activity that connected with the flower-making project in the Studio, and I had also been wanting to use some brightly colored vellum samples we received from Canson paper.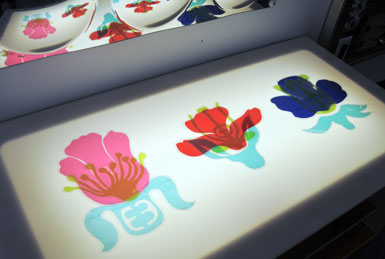 Working together with our student assistant, Lydia, I suggested we make flower parts that could be combined and re-arranged. After researching flowers and viewing drawings of some flower cross sections, Lydia came up with 3 drawn designs each for petals, stamens/pistils/ovules and calyx. After a little resizing on the copier, she used her drawings as stencils for cutting the vellum. Layering the vellum under the drawings, she cut through both at once using an EXACTO-type blade. Then, she laminated and trimmed them a little, being careful to leave at least 1/4" of laminating material around each shape.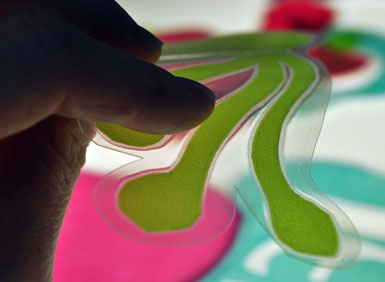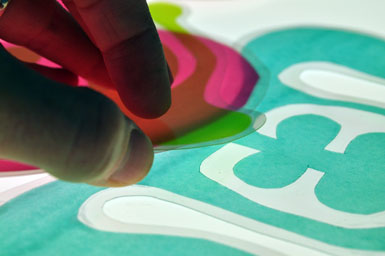 The last thing I added was a spread from the book Sow and Grow by Tina Davis, diagramming the parts of a flower in beautiful line drawings. I copied the spread onto acetate sheets so they could be placed right on the light table.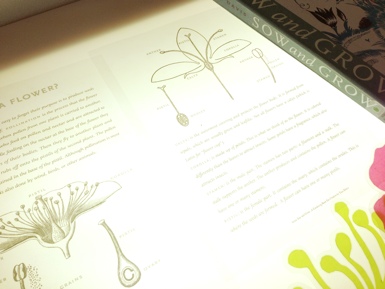 If you want to create a similar activity for your classroom or home, look for colored vellums in the scrap-booking section of a craft store. You could use diagrams of flowers from a Google search to inspire your shapes for the flower parts. Better yet, invite your students or children to dissect flowers and draw flower parts that can be used as stencils. We limited the selection to three shapes for each of three parts of flowers (9 shapes total), but you could do as many as you wanted. Since our shapes are somewhat abstract, we made all 3 pistons/stamens/ovules green and the 3 calyx teal to create some visual order. Copy shops have laminating services; ask for a heavy-weight film if your shapes need to hold up to heavy use.