Spelling doesn't have to be about lists and memorization. With a tiny bit of planning, it can be a fun, hands-on activity. This is a great way to build words and gives your children a chance to touch and move the letters around so they do more than just memorize — they get a hands-on experience with making the words.
What You'll Need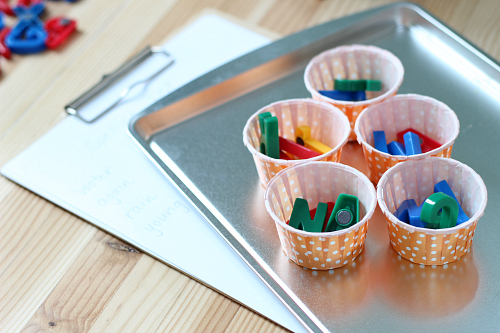 Magnetic letters (we use 4-5 sets when we play)
A cookie sheet
Fun little cups to keep the letters grouped together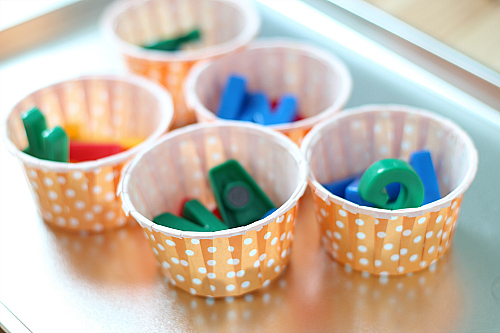 Step 1: Start by placing all the letters for a specific word in cups. With very young children you can give them prompts — like a picture — or even spell the word out in lowercase letters next to the cup of letters and have them match the magnets. For older children, I would just give them the letters and their list of the words they are expected to make.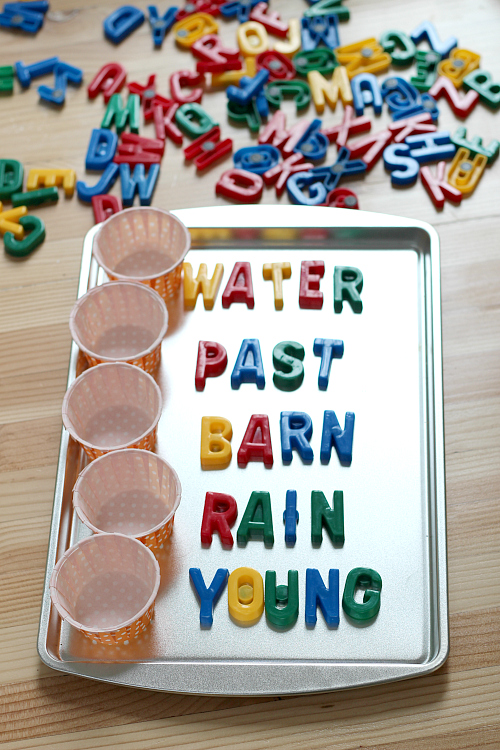 Step 2: Take the letters and use them to create words. It's not too hard, but it still takes time to figure out which pile of magnets turns into which word. Taking the time to then build the word helps cement the correct spelling into your child's memory without having to drill, drill, drill! Also, the magnetic letters are so flexible that if a mistake is made there is no trace of it once it's been corrected. Remember, we aren't testing our kids, just helping them find fun ways to practice.

Step 3: After they have gone through their spelling words, ask your children if there are other words they can make with the letters they already have on the cookie sheet. Now you have moved from practicing to really creating!

What creative ways to do work on spelling at your house? Tell us about it on the Scholastic Parents Facebook Page!