Have you heard? Letter drawing is currently all the rage.
Letter drawing, you say?
Believe it. Even though so many of us are plugged in and are staring at screens for hours at a time, there's a huge number of people who are unplugged and are drawing letters. That's right: drawing letters!
In fact, the focus of Klutz's new publication Neon Chalk Lettering: Draw Letters with Personal Style is all about bringing new life to the 26 letters we all know and love. This book focuses not only on the message being sent but how that message looks when we send it.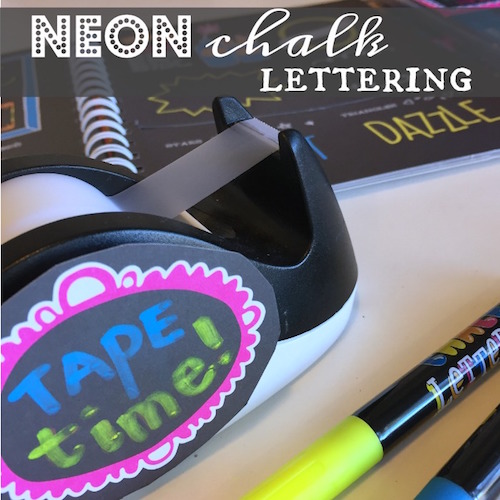 Neon Chalk Lettering has been a ton of fun for my kids and me to explore. The book comes with four neon chalk markers, a white and black colored pencil and tons of ideas for letter drawing.
We read about different types of letters: block letters, drop shadow letters, serif letters (where each stroke is capped with a short horizontal or vertical line called a "serif"), bubble letters, italic letters, and more. And we not only read about these lettering options — we also had a chance to try them ourselves!

By using several of the inspiration-type posters in this book, readers can use markers to fill in outlines and create lettering masterpieces no matter their skill level.

The coolest thing is that after completing the practice pages, readers can create their own lettering masterpieces on the blank pages.
Also included in the book are some cool labels and banners that can be filled with drawn letters, cut, and pasted just about anywhere, like the tape dispensor pictured at the top of this post. 
We learned a ton with this book, and the greatest thing is that the drawing/lettering skills learned can be applied just about anywhere. When your kids are ready to do some letter writing, they'll be able to take it up a notch, or two.

Have you ever tried drawing letters? Share your thoughts with us on the Scholastic Parents Facebook page, or find Amy on Twitter, @teachmama, and let's continue the conversation!
FYI: Amy Mascott was given the Neon Chalk Lettering book to read and try with her children. It was a hit. All opinions belong solely to Amy Mascott and are influenced only by her experience as a parent and educator and her nail-designing tweens.
---
Check out bloggers Amy Mascott and Allie McDonald's book, Raising a Rock-Star Reader: 75 Quick Tips for Helping Your Child Develop a Lifelong Love for Reading. Get expert advice and learn new strategies for your young readers.