The Education Team at The Carle is always brainstorming new ways to connect art activities to picture books for programs at the Museum, or for our Art-Centered Community Outreach Programs for Youth & Families. One of our favorite books this past year is Mr. Tiger Goes Wild by Peter Brown, and I recently worked with children at Fort River Elementary's afterschool program in Amherst reading Mr. Tiger and then making paper jungles.
Everyone received a good-sized piece of cardboard as a base for their jungle. Since there were several kids in kindergarten or first grade in the group, the first thing I did was cover the steps for making a paper tree that can be attached to their boards. We rolled a brown piece of construction paper into a tube and glued it down the side with a glue stick. Next, we cut notches around one end of the tube to make "the roots" that can be anchored to the cardboard with glue or tape.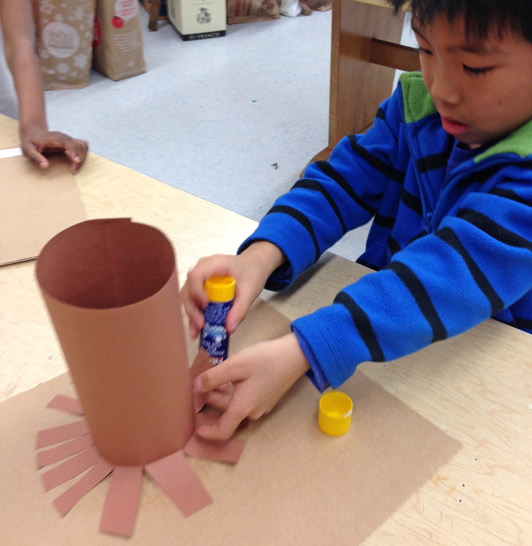 Looking back, I wish I also had them make notches at the opposite end of their tubes for "the branches" so it would be easier for them to attach leaves to the trunk. Despite the challenge, they all did a great job thinking of ways to make the green tree tops! Below, this girl used green masking tape for her tree top and added a pond of fish beside it.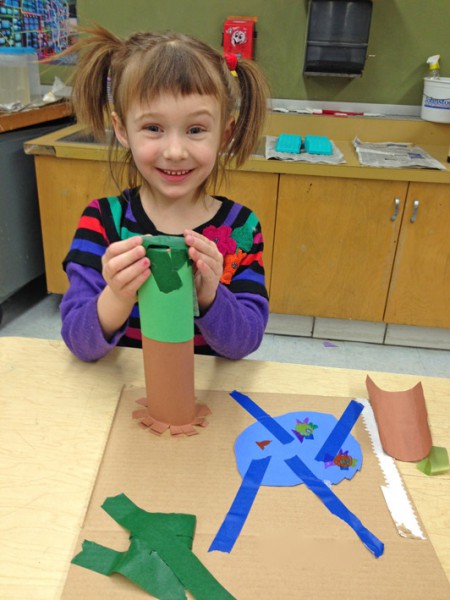 Looks like this tree has a special staircase up to the top. He used long strips of green paper to attach the "leaves" and made a monkey.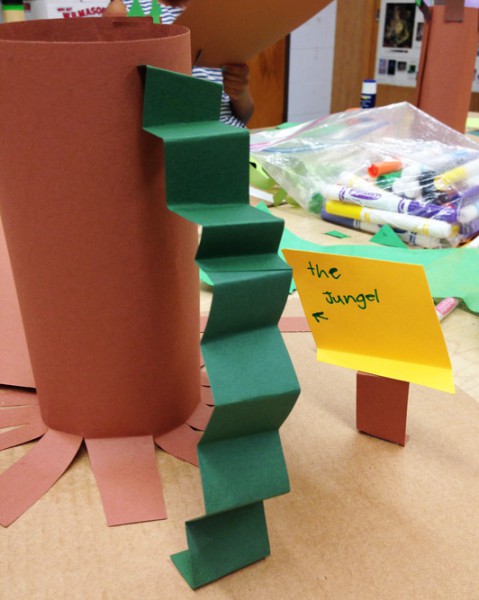 I asked him how the monkey gets around and he said that monkeys swing. He started blowing on the top of the tree so the monkey would look like it was swinging.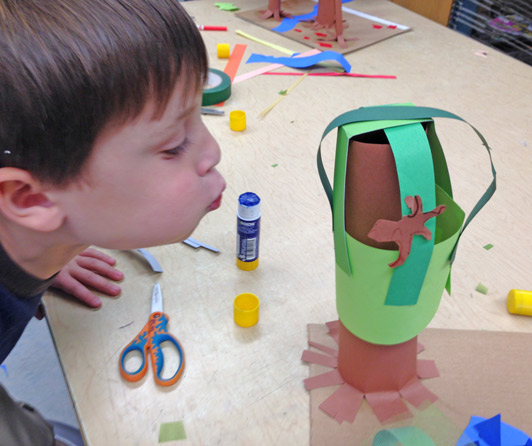 One of the most exciting moments during the three weeks was helping a kindergartener draw her first tiger.  We looked at the tiger together and talked about the shapes that are in on a tiger's body, and she drew them herself one by one on the back of a tiger patterned piece of paper. She cut out her tiger and added a happy face. I thought she did a really great job on her first try!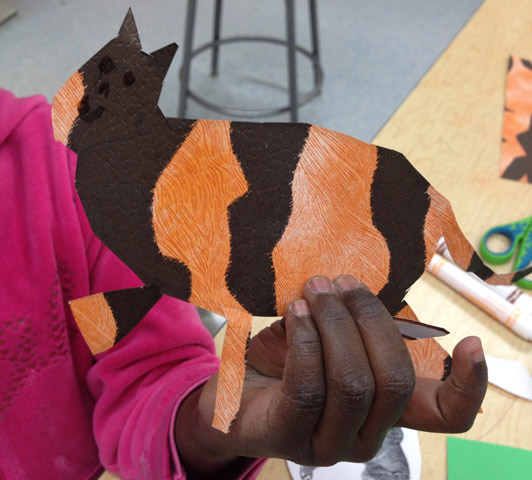 The Carle is contracted with Amherst Public Schools for the second winter in a row to visit each of their three elementary schools in the city: Wildwood, Fort River, and Crocker Farm. At each school, one of The Carle's art educators teach three one-hour art workshops for up to twelve students in each session as part of their after-school programs. We love being able to visit local schools and libraries to meet children and families who may not know about The Carle and our programs.
Thanks for having me, Fort River!