For your creative kids, ages 6-10, always asking for the paintbrush or cutting up crisp construction paper, this crafty activity is the perfect way to harness their inner artist -- and bird-watcher! 

The strength of this project is that it involves a few different kinds of activities to appeal to many kinds of learners:
•    Open-ended time to explore materials (in this case to explore color and visual texture).
•    Comparison and conversation about the works of multiple picture book artists.
•    Combining memory with imagination, creative problem solving, and fine motor skills.
Begin with stamps -- check out  how to make your own with these homemade tempera paint stamp pads. Let your child make as many visually-textured papers using tracing paper, construction paper, and Folia Transparent Paper as she wishes.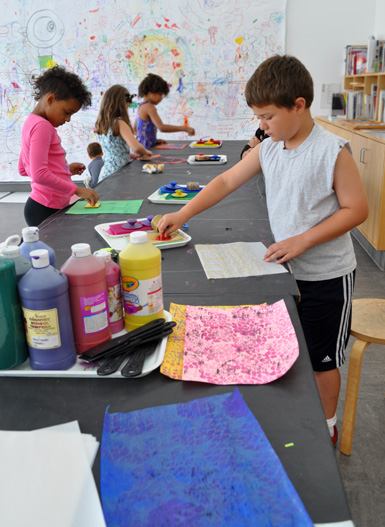 When your little one is stamped out, take a seat on the floor around a handful of picture books to look at how different artists illustrate birds.
Here are some examples to get you started:
There Is a Bird on Your Head by Mo Willem
Birds, Nests, And Eggs by Mel Boring
Watching Water Birds by Jim Arnosky
Notice how some artists work realistically, depicting the birds and their details closely to how your child would see them in nature, and some artists who work more abstractly, using a collection of basic shapes to illustrate.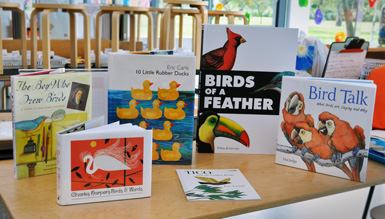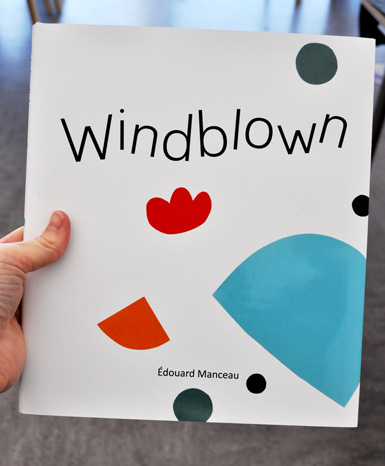 Next, give your child a rectangle -- approximately 6"x10" of heavy paper (like cardstock) -- and help her begin making her own collage bird, just like the pictures in the books! 


Help cut your child's bird parts out of white paper first, or let her do the cutting with safety scissors, and then add the stamped paper to the shapes once your child is happy with them. 
Ask her to remember what shape the birds were in the books you explored. Whenever possible, try not to "demonstrate" how to do something because it could lead your child to wanting her bird to look like yours, or feelings of not getting her bird "right." 
Let her know if she wants to make their drop rounder, or wider or narrower, the choice is up to her. 
When she has cut her bird's body shape, have her hold up the negative shape (the paper leftover from the drop shape) to see if there are other shapes within it she could identify. Ask "what parts of your bird could you use these for?" See what types of unique responses she can come up with!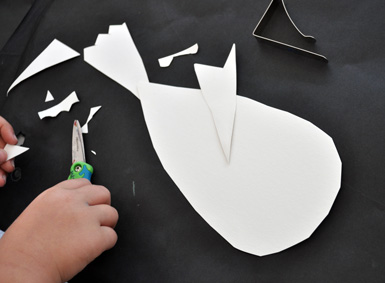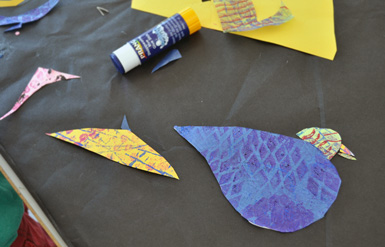 Once she has her shapes cut out, talk about how to integrate her stamped collage papers into her birds. She can begin by directly cutting shapes out of her collage paper, but, keep in mind, cutting from the white paper first can help her focus on the shapes she is making without the distraction of color and visual texture. 
If your little one wants to take her new birdy companion on a walk outside once she's finished, attach her bird to a stick with craft string and white file-label dots. Your child can let her bird fly behind her as she runs outside.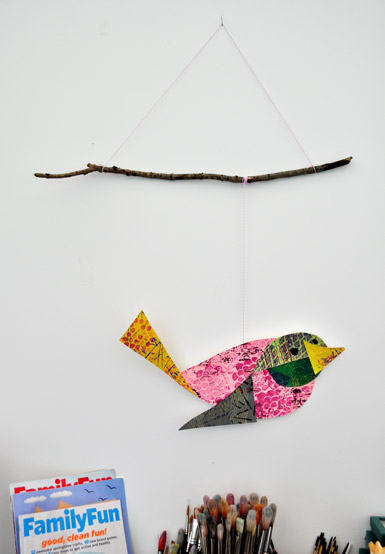 This exploration's structure is one you can use with different themes and books again and again! In your home, or in your child's classroom, the components can be spread across a couple days. Maybe your children are into dinosaurs, or buildings, or flowers? Have fun adapting this idea with picture books and ideas that interest them!