Art Studio interns at The Carle help us in many ways, including with documenting events and special projects. Ally Lynes, The Studio's spring term Intern, designed one of our monthly Special Sunday activities. Please enjoy her words and photos about the project, Layered Paper Drawings!
For this busy day, I was given the opportunity to design my own drawing-themed project for visitors. When brainstorming potential ideas for my project, I was a bit overwhelmed with ideas until Diana prompted me to find ways to include some of my own artistic interests into the project's theme. As a senior Studio Art major with a concentration in ceramics at UMASS Amherst, I knew I wanted to incorporate some sort of 3D aspect. A lot of my work deals with layering and interior space.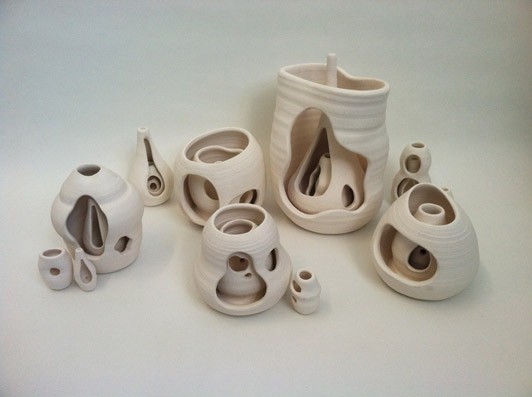 Instead of my usual medium, clay, I was instantly drawn to layering paper for my activity.
To make Layered Paper Drawings, guests started by choosing three or four pieces of pre-cut, colorful construction paper. I encouraged them to explore drawing with scissors in making different patterns or cutouts in the paper. A lot of people used the "snowflake method" of folding and cutting symmetrical designs into their papers and opening them back up to see their designs.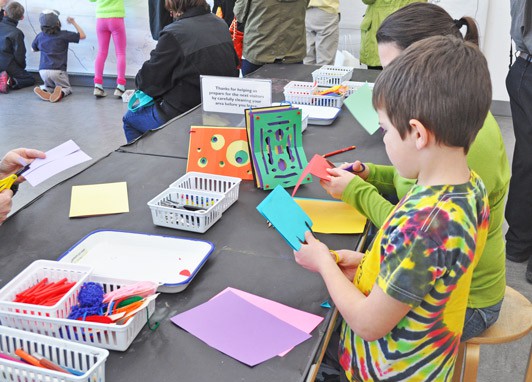 Guests explored with cuts, finding out that some shapes fit their design idea more than others. By the end of the day, the scrap trays were piled high with really interesting negative shapes!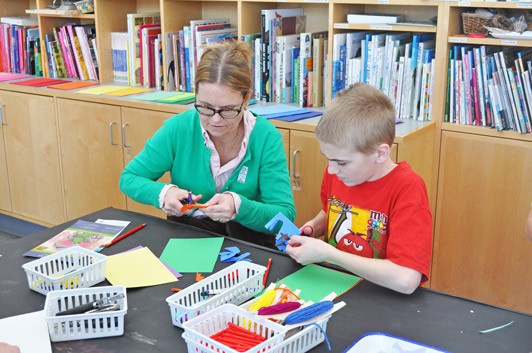 Because of the multiple layers that this project contains, it turned out to be a great opportunity to work with a group or family collaboratively and assemble one final project together.
Once all of the layers were cut, it was time to assemble them into three-dimension "drawings." Guests put the papers in their favorite order and then sandwiched them flat together. We used hole punches to punch a small circle at each corner, being sure to punch far enough away from the edges so that the holes would not rip.
Then we threaded small straw pieces (made from a regular straw cut in half) through the holes. Ours straws were red, but you can use any basic drinking straw. This step was a bit hard at first because the straw and hole were such similar width, but we quickly realized that folding the tip of the straw into a tapered end and threading it through made the process much easier!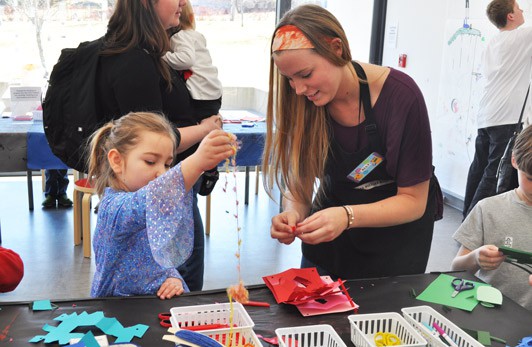 The width of the straw allows the papers to be spaced out a half-inch or so from one another, creating the 3D effect. The final step was tying a piece of yarn or string to the straws to make their creations hang-able!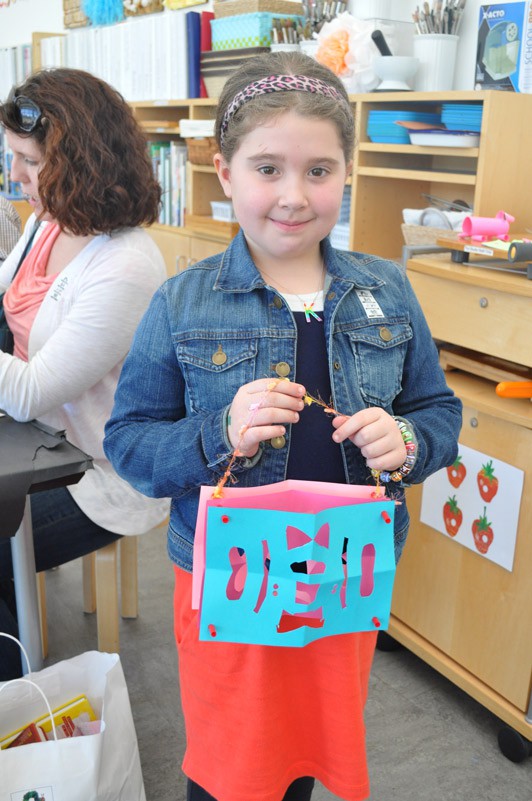 Seeing a project through from start to finish was an amazing experience that really solidified my love for designing art programming. It was extremely gratifying to witness guest's positive reactions to what they had created from my original idea. Throughout the day, I noticed that this project was especially popular with our older-aged crowds. One grade-school teacher even told me she intended to use my idea for a future lesson! I hope this project provided a new spin on the typical "drawing," allowing guests to explore with materials and be free to create something completely new.