Using everyday objects, you can help your child construct a variety of new tools that can be used to make interesting artwork. Alternative paintbrushes and markers can foster your child's artistic expression by allowing him to create unique patterns, lines, and designs. Below are five examples of some of the inventive art tools conceived, along with a description from the creator of each at The Eric Carle Museum studio.
We hope you are inspired to build your own with your little one, and experiment at home with mark-making!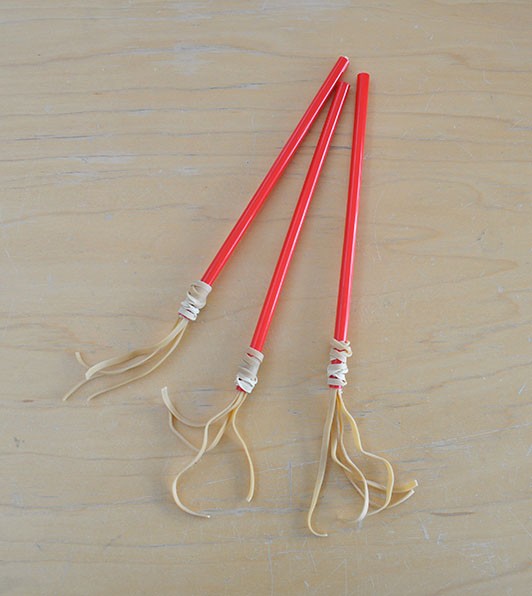 1. Rubber Band Brushes
"I...was inspired by the texture and the flexibility of the rubber bands....I decided to experiment with materials and replace what acts as the bristles with cut-up pieces of rubber bands." – Helen A.
What you'll need: straws, rubber bands, scissors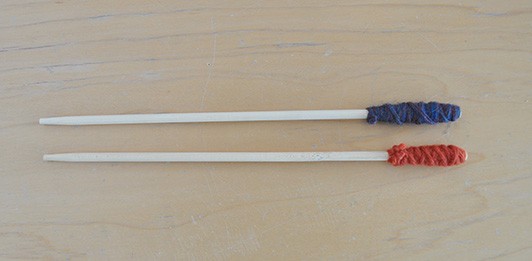 2. Yarn-Tipped Brushes
"The yarn wrapped around a stick created a more solid tool with which to explore the paint and paper. It was less floppy than the ribbon or feathers, but still offered interesting texture to play around with; I also imagined the possibility of using the end of the stick to make dots." – Carole R.
What you'll need: yarn, sticks or chopsticks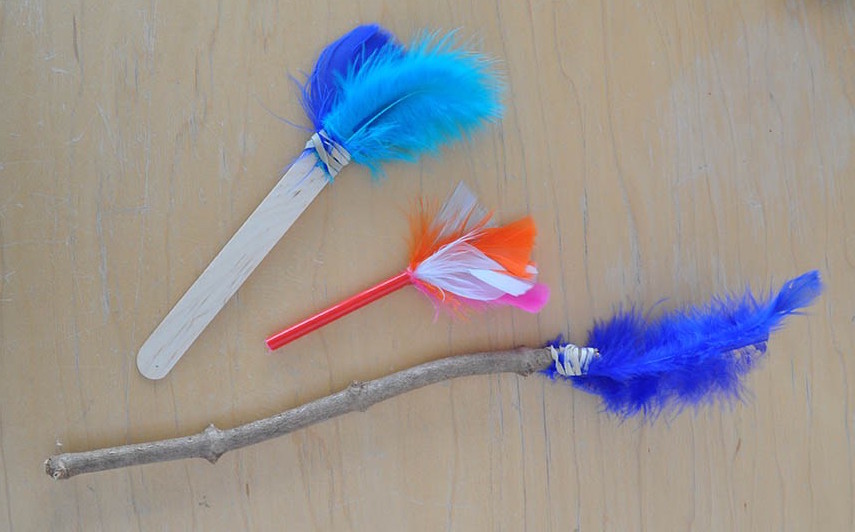 3. Feather Brushes
"The feathers are colorful and fuzzy and are an interesting texture to explore. The sticks were fun because they added a nature element to the project." – Carole R.
What you'll need: feathers, sticks or popsicle sticks

4. Circle Sticks
"I found that attaching two identical wooden shapes to the end of wooden coffee stirrers resulted in a variety of available lines and marks. Straws were used to cover the stirrers in order to make the tool easier to hold and to add a colorful quality." – Anton K.

What you'll need: wooden shapes, coffee stirrers, straws

5. Ribbon Brushes
"When I decided to attach bits of ribbon to popsicle sticks with rubber bands, I was imagining creating an alternative paintbrush. The colorful and floppy ribbons added a silly, whimsical element to a familiar tool." – Carole R.
What you'll need: ribbon, popsicle sticks, rubber bands
As one participant in the activity aptly put it, experimenting with the tools "makes you think that maybe paintbrushes aren't the best tools to paint with!"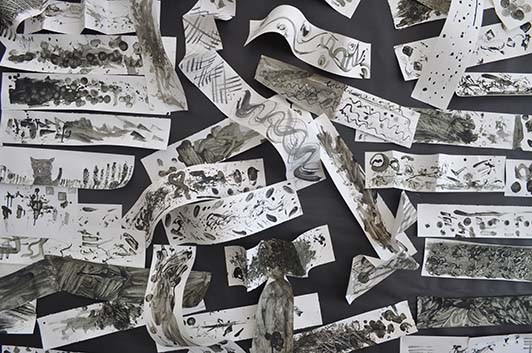 Here is some artwork created with these original tools. How will you and your child use everyday objects to create items with potential for painting and mark-making?