Handprint art is an adorable way to mark a moment in time. I look at handprint art my 10-year-old created years ago, and marvel at how much she's grown. While she is developing into this remarkable young lady before my eyes, her tiny little hand and footprints remain. (Sneaks quietly away to get a tissue….)
I love the beautiful imperfection of handprint art, and hope these simple ideas inspire you to get messy with your kids. Celebrate the arrival of spring by breaking out the washable paint and creating some super-cute hand (and foot!) print art with your little ones ones – and any other ages who want to join in the fun. Make a mess and make some memories!
Sunshine
One of the best things about spring is the return of the sun! We are always thrilled to get outside and PLAY!
How: To create a sunshine handprint, paint your child's hand with a nice bright yellow paint. Help her stamp her hand in a circle to form the outline of a sun. Your child's fingers will mimic the rays of sunshine.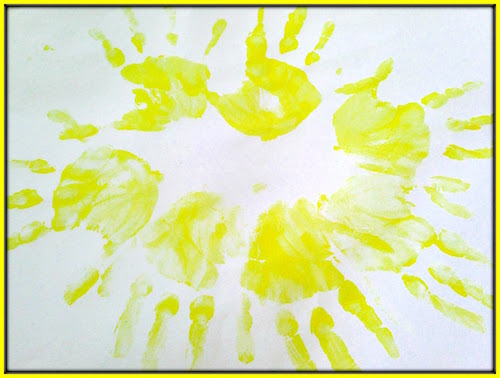 Carrot
One of our favorite spring activities is working in the garden — prepping the soil, selecting seeds, and getting ready to plant. These cute hand and footprint carrots will get your children thinking about all the fresh veggies in their future.
How: To create a carrot handprint, paint your child's foot orange, and stamp it near the bottom edge of the paper. Top the orange "carrot" with a nice green handprint to create the carrot top.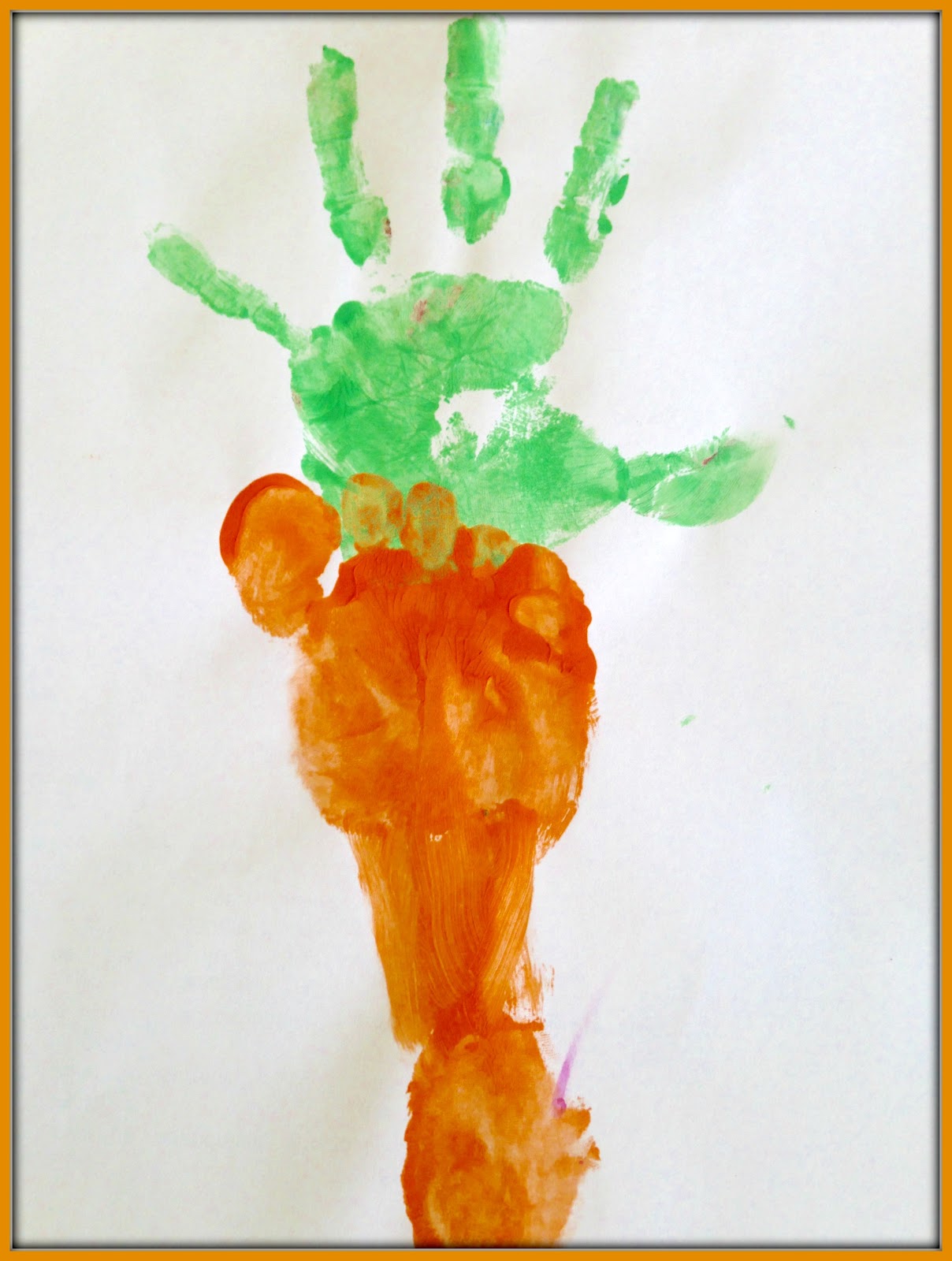 Butterfly
My kids get so excited every time they spot a butterfly on the farm — and who can blame them?! These handprint butterflies capture the color of the real thing with an extra bit of charm only a 7-year-old can add. ;)
How: To create our butterfly handprint, we painted both hands, from the tip of the thumb all the way down to the base of the hand, directly under the thumb. I let my son choose the colors he wanted to paint the rest of his hands, to create the wings. He opted to paint the top half of his hands one color, and the base of his hands (the palms) another. Overlap the thumbs to create the center of your butterfly. Once the butterfly dried, we added the antennae with a marker.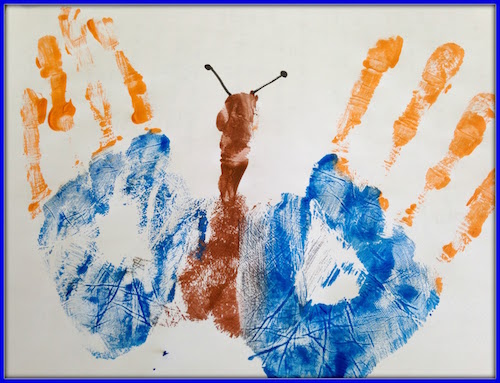 Flower
I absolutely love watching the flowers spring to life around the farm. The pops of color are such a welcome change from what can feel like winter's drabness. These handprint flowers will bring your refrigerator to life.
How: Creating a handprint flower is a great project for a child with slightly bigger hands, who may not be able to fit more than one handprint on a typical sheet of paper. Simply choose a color to paint your her hand, stamp towards the top, and have her add a stem and a leaf or two. Your children can create a flower using either a closed hand, or an open hand, depending on the look they desire.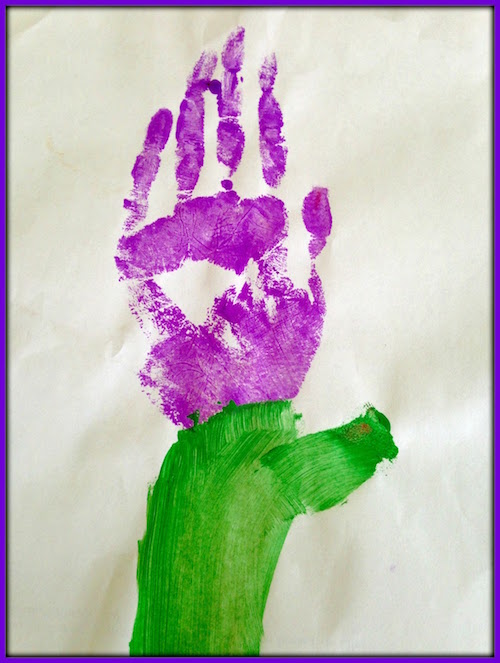 Bunny
We have so many bunnies hopping around our property, that I had to include a piece of bunny art on the list. This adorable bunny features both hand and footprints, making it extra-special.
How: To create a bunny handprint, start by stamping a closed gray hand onto the lower half of a sheet of paper. Next, stamp two little gray footprints on top of the hand, acting as ears. Once dry, you can go back and add details. We added googly eyes, a pink nose (made using a thumbprint!) and whiskers.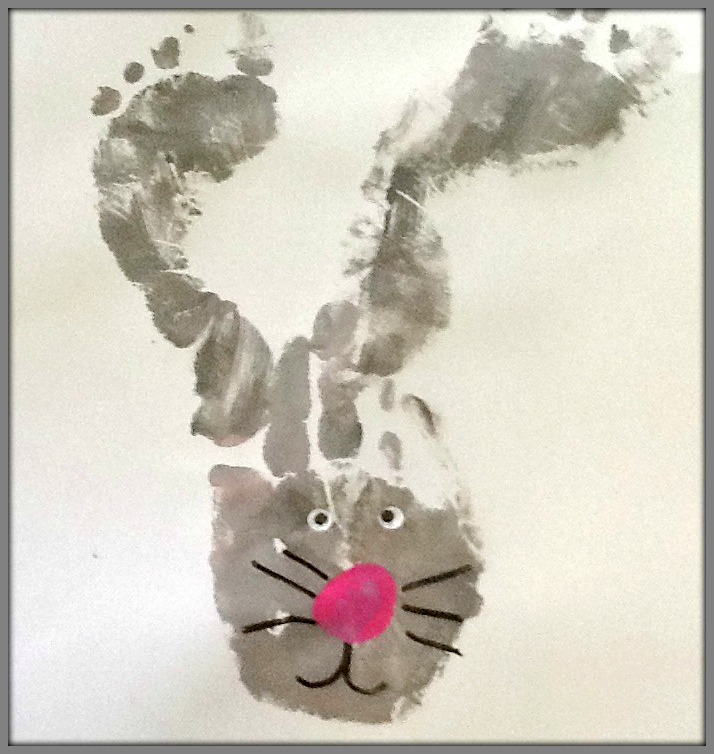 Do you have ideas for creative handprint art? Share them with us on the Scholastic Parents Facebook page or tweet me @chasingsupermom.

Featured Photo Credit: Yaruta/Thinkstock