As parents, we're always trying to find new and imaginative ways to inspire our children to read. But one Texas mom found inspiration in an unexpected place: rocks.
Kattie Struhall from Bullard, Texas, is a mother of two (to 9-year-old Madison and 4-year-old Francis, who has autism) who wants to spread a love of literacy while using her artistic talent. She paints characters from beloved children's books onto hand-picked rocks. After hiding the rocks throughout her home and community, her children and neighborhood kids find her crafty creations on a fun scavenger hunt and are later rewarded with the book featuring the painted character.
Scholastic Parents spoke to Struhall about how her community-building artistic hobby helps her autistic son and why it creates "a wave of kindness that is much needed nowadays."
What inspired you to begin painting classic children's book characters onto rocks? 

My son Francis has autism and I am constantly trying to bring him out of his little shell in whatever way I can. Painting rocks brought art, reading, singing, and fun all together in one little package. I have been painting rocks since I found my first rock at the Bullard Children's Park. It was a little ice cream cone. My kids lit up so much we just started painting them [ourselves].
I've painted on canvas for years, but the rocks bring about a wave of kindness that is much needed nowadays. The activity brings the whole family together which leads to the community coming together.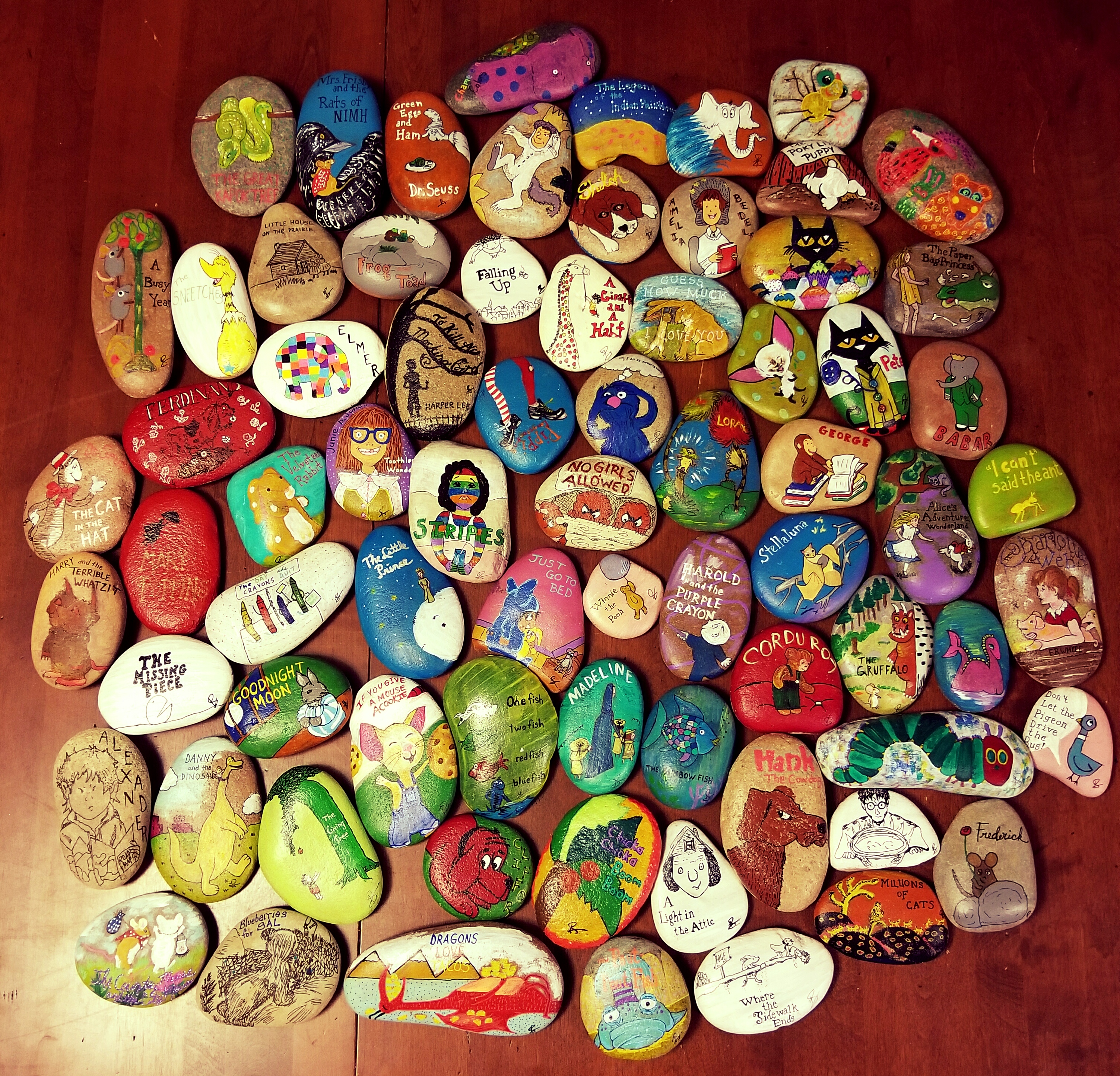 Tell us about the rock scavenger hunt and how you were able to incorporate your local community into this activity?
I noticed that Bullard did not have a [group for rock enthusiasts] so after creating Bullard Rocks I began painting children's books. With the holidays fast approaching, I decided to little-by-little purchase [a] coordinating book for each rock to hand out as [the rocks were found by local children]. Giving the gift of books and painted rocks seemed like the best idea.

I've teamed with other amazing rock enthusiasts and we [ended] up having well over 200 rocks to hide and seek. I reached out to the mayor, city council, and city staff and we all collaborated to bring the community together through the Great Big Book Rock Hunt. I'm blessed to pull all of East Texas together in my hometown to enjoy each other's love for books and rock painting! I hope to see it spread across the country!
What advice do you have for parents who are trying to find creative ways to encourage their children to read?
Books can be the closest friends your child can have. I have learned with my autistic son to get creative in his learning. Pete the Cat teaches him to not worry. The Very Hungry Caterpillar teaches him that one day he will grow to be even more awesome, like a beautiful butterfly. Chicka Chicka Boom Boom [teaches] him the basis of the alphabet with catchy rhymes and songs. Kids can learn a wealth of knowledge just from reading to them at night. Put some feeling into your reading and give the characters voices and facial expressions.
Children should not be leery of books — they should flock to them and bring their imaginations out in a way they each can understand as an individual and the pages will turn. Hence why I chose painted rocks, I know most children love painting and finding them. What better way to get them to learn more about Verdi or Stelluna then by finding a painted rock? It's the best teaser for them to be led to the stories.
Does your family have a favorite children's book or children's book character?
Pete the Cat has to be the grooviest cat I have ever seen illustrated. Dr. Seuss is a fan favorite with all my family and, of course, Eric Carle. My daughter enjoys the crazy antics of Junie B. Jones and SuperFudge. It's hard to narrow down favorites because we have so many we love.
Inspired by Kattie Struhall's rock-painting adventures? Give the activity a try yourself. Get started by following the directions below.
What You'll Need
Small rocks, flashcards, or trinkets that can be painted on
Markers or non-toxic acrylic paint 
Paintbrushes
Optional: Glue
Directions
Choose your child's favorite children's book characters or popular characters from books your child has never read. Ahead of time, make sure you have the physical books on hand.

Either paint the character onto a rock or flashcard or print out an image of the character and paste it onto the rock or flashcard using glue. Alternatively, you can use trinkets that relate to the book to hide instead; for example, a small stuffed animal mouse for If You Give a Mouse a Cookie. 

Once the rocks or flashcards have dried, hide your trinkets throughout the house and/or the backyard. For added fun, hide them in their favorite locations throughout your community like the local public library or the local playground.

After your child has found the rock, flashcard, or trinket, reward your child with a copy of the book featuring that character.
This is a great activity for birthday parties, holiday events, or weekends to boost your child's love of reading!
"To see a smile from something you created is so fulfilling," Stuhall says. "I've continued painting children's books because the memories that become attached to the characters [who] brought you happiness and courage growing up never go away. I've had folks tell me stories about almost every book I've chosen to paint. It amazes me how books become our closest friends, the ones we can always count on. I paint them because to my son Francis they are superheroes…consistent and always smiling."