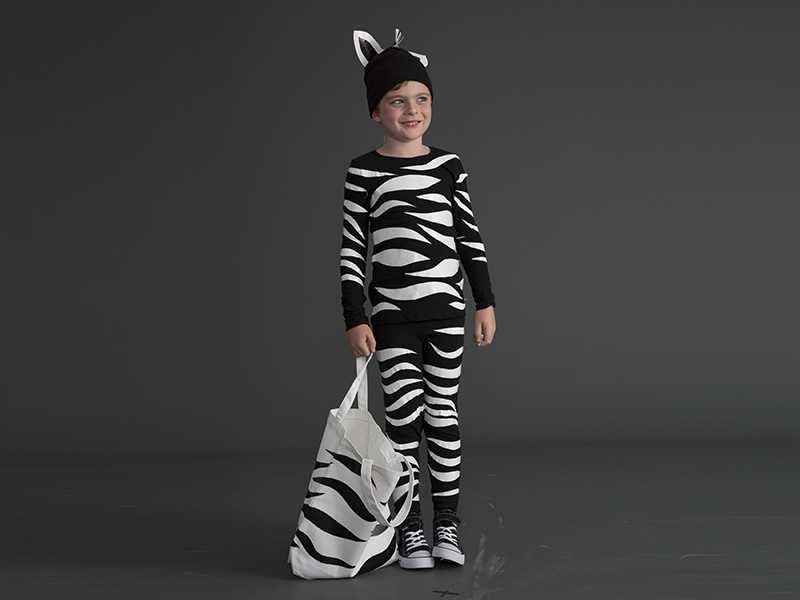 Body
Cut wavy stripes from white duct tape and adhere to a long-sleeved black T-shirt and pants.

Hat
Rip off an 18" piece of duct tape; place on work surface sticky-side up. Across length of strip, cover ½" of tape with parchment paper; place another 18" piece on top so parchment paper is sandwiched between two strips of tape. Adhere 3" pieces of black duct tape every few inches along both sides so the color alternates between black and white. Make a 1" fringe with scissors. Carefully remove parchment paper, exposing adhesive, and adhere to hat (let the strip hang down in back). Cut 2" tall ear shapes from a double-wide piece of back-to-back white duct tape (use the same parchment paper release technique). Cut a smaller black ear shape and stick to front. Adhere ears to either side of mane.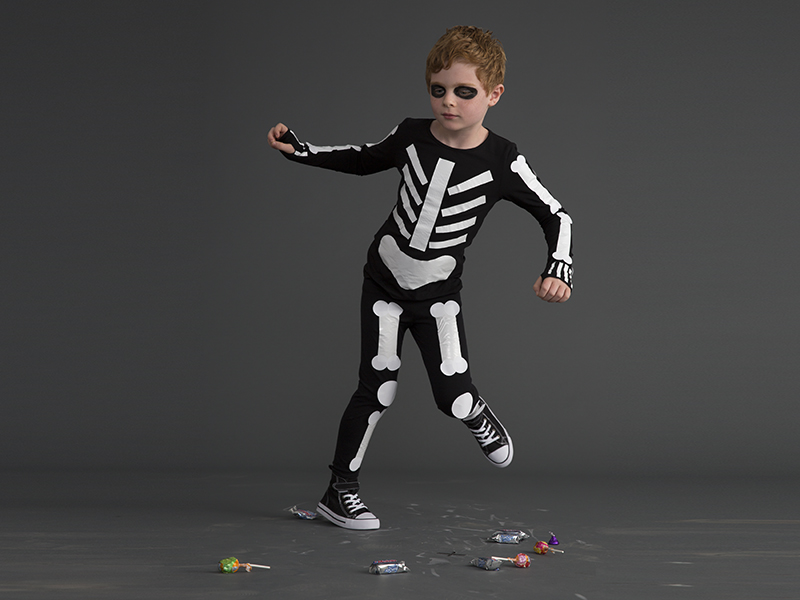 Body
Stick pieces of white duct tape to black pants on the calves and thighs (the length will depend on the length of your child's legs). Adhere two 1 ½" circle label stickers to either end of strip and add 2" circle labels at knees. Repeat for arm bones, but make them thinner by trimming ½" off width of duct tape and using 1" circle label stickers. Apply a strip of duct tape down center of T-shirt; cut eight 4" long, 1" wide pieces for ribs. Cut hole (big enough for your child to slip his thumb through) at end of the long-sleeved tee and stick five 2" long pieces of white duct tape on back of hand to create the fingers. Repeat for other side.

Hipbone
Download the template from Scholastic.com/hip; then trace onto a white duct tape sheet (available at craft stores) and cut out. Adhere on the T-shirt below the rib cage.
More Costumes
Crayon and Rocket
Red Riding Hood and Matador
Sunflower and Lion

PHOTO: Russ and Reyn