Put Your Purse in Order
Bag the itty-bitties 
We all have small items hiding in our purses that we can never find when we need them. Keep things like tweezers, a nail file, a pill case, hair ties, and gum together in a colorful zipper pouch, or even a zip-top bag. Either one is easy to spot in the depths of your satchel. 
Mint Condition 
Instead of overstuffing your wallet, try keeping business cards, store rewards cards, and insurance cards in a metal mint tin.
Sunny Storage
Stop fighting with tangled earbuds and chargers. Contain them in an old sunglass case.
Tech Savvy 
Yes, there's nothing like turning real paper pages during your commute or break, but you'll save space if you download books onto your phone or tablet. This also goes for what's in your planner and notebook. Get rid of all three and you may even be able to downgrade to a smaller bag. This will give your shoulder a break, too.
Divide and Conquer 
Do you already organize your coupons in a tabbed coupon holder? Good. Now pick up a second one to hold receipts and gift cards. Whether you choose to group them alphabetically, or by type of store (grocery, clothing, pet, toy), it'll be easier to find what exactly what you need.
Pare Down Periodically 
Make a habit of going through your purse every other week. Don't wait until you switch purses out seasonally. Sunday evening is a good time; you'll have an organized purse for the start of the work week. Throw out trash, wipe out crumbs, and remove any extras (like those six lipsticks and five pens).
PLUS: HOW TO FAKE A CLEAN HOUSE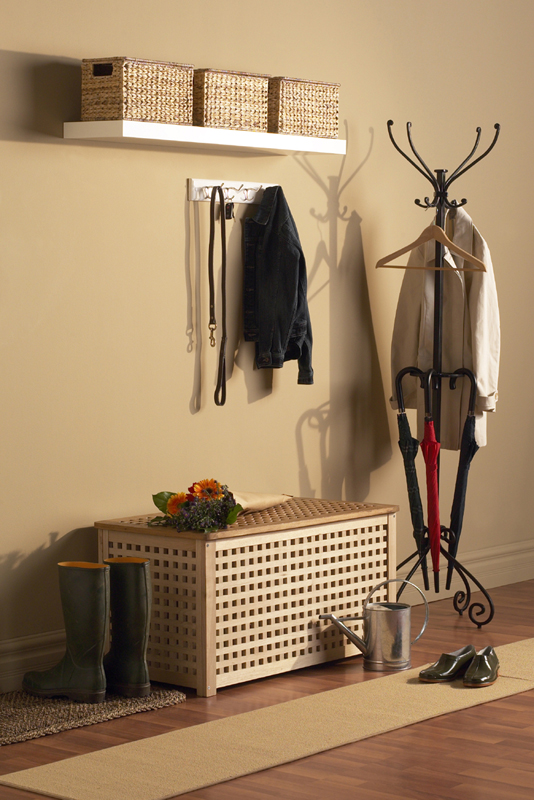 Establish Your Entryway
Grab and Go 
Stash different color tote bags for every activity you or your kids regularly participate in. For instance, have a blue bag for soccer practice, a green one for scouts. Keep essentials inside. You might also consider bags for car travel/restaurant (small toys, quiet games, or projects), dry cleaning, library, and clothing donations.
Cubbies are Cool 
Kicking off shoes at the door keeps your home cleaner, so it's a good habit to teach your crew. The downside is the unsightly pile of shoes. Make over that real estate by stealing an idea from the kindergarten classroom: cubbies. These are easy to find at big home stores, and can be painted if you like. Then make them the permanent home of the shoes your family wears most often, likely sneakers, errand-bound flats, and sandals in the summer.
Dog Gone Easy 
Leashes never seem to have a home. Make use of vertical space by repurposing a small coat rack. Not only will his leash, collar, and harness be at the ready, but it can also be the keeper of Max's rain slicker and winter jacket.
Contain Them
If you've got kids, most likely you've got (dirty, often wet) sports gear to contend with. Leave the mess at the door with a low, open-weave metal bin to catch errant equipment.
Key Principle 
No more getting to the door and realizing you don't have your keys. Let a sleek magnetic shelf practically take them out of your hands. Car keys, house keys, and ones you don't use as often, like your neighbor's house key, are always accounted for.
PLUS: THE BEST FREE APPS THAT'LL ORGANIZE YOUR LIFE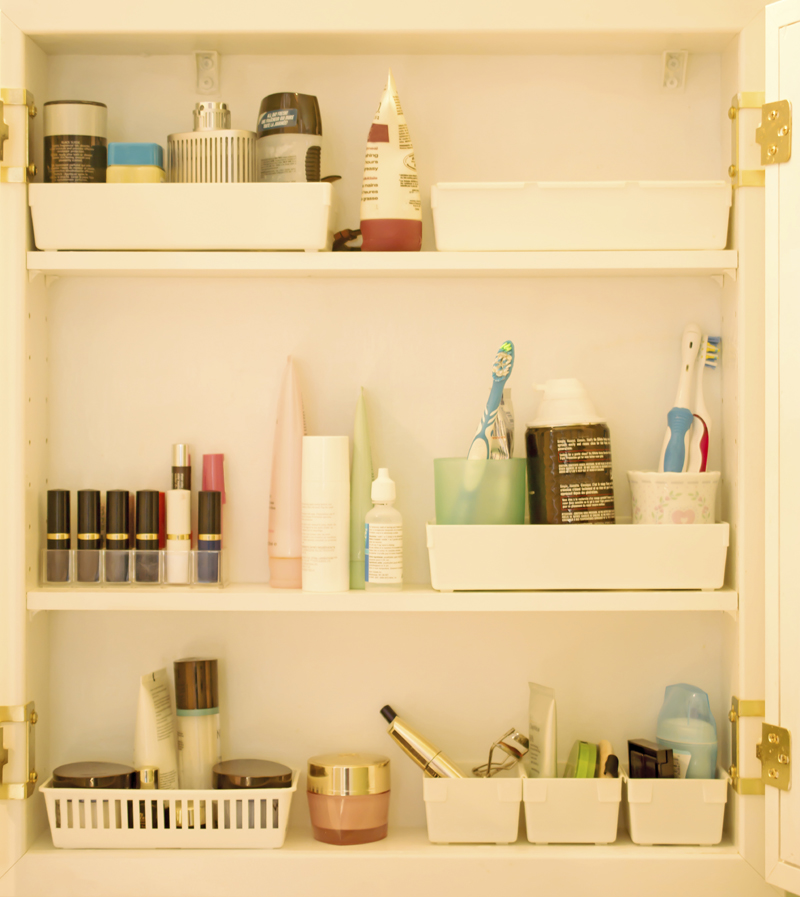 Better the Bathroom
Purge Products 
Many people tend to stockpile personal care products, buying new ones without ditching others. Go through your bathroom cabinets with a critical eye, tossing anything that you no longer use (and never will!). Toiletries that are considered medicinal, like anti-perspirant and sunscreen, have an expiration date. The rest may have a label with a number followed by the letter M, indicating how many months the item is effective after opening. If it has neither, write the month/year you got it in dark marker on the bottom. Later, you can always refer to this date to gauge whether it's still usable. Streamline storage further by keeping only what's in use in the bathroom. If you buy an extra few bottles of shampoo on sale, keep the backups elsewhere.
Tray Chic 
Most mornings, you have to move fast. Try arranging whatever you use everyday on a small, decorative tray. That will save you a bundle of time spent poking through cabinets, taking items out and putting them back in.
Clear Direction 
Stow essentials the whole family uses, like cotton balls and swabs, even adhesive bandages, in repurposed glass vessels or pretty apothecary jars, on shelves to save counter space. You'll be able to see when you need to buy more, and your basics stay handy.
Rolls at the Ready
Odds are, you don't buy rolls of toilet paper one by one, so why bring them into the bathroom one by one? End awkward calls from the loo by stashing your entire supply in an urn, bin, or basket. This also makes it harder to forget to stock up when reserves are dwindling.
Keep in a Caddy
Hair dryers, irons and their accessories get unruly fast. Get them under control with a compartmentalized tote bag. Hang it over the doorknob while you're styling your hair, then store it under the sink or in the linen closet.
PLUS: BRILLIANT PINTEREST LIFE HACKS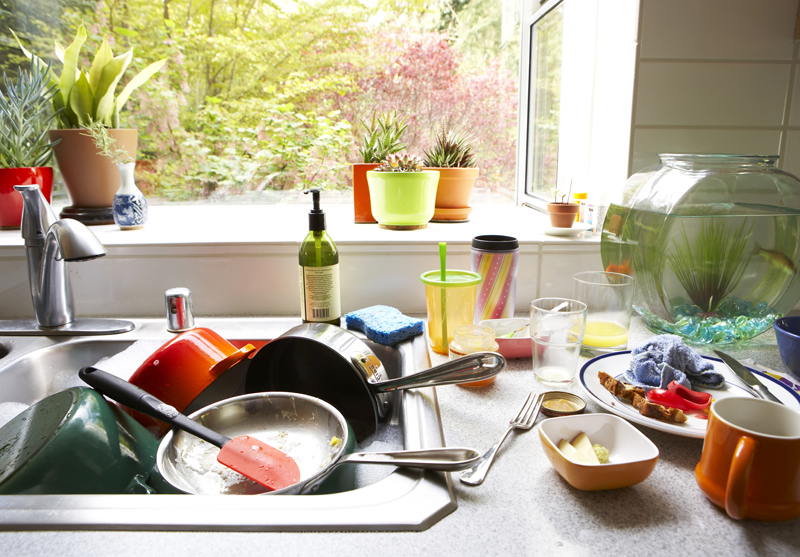 Declutter Those Counters
Things are Looking Up 
It seems like everything, sooner or later, winds up on the kitchen counters. Give them a fighting chance at staying clean by mounting the essentials — like calendars, recipes, and to-do lists — on the wall. A dry-erase board can take the place of notes, reminders, and more.
A Visible Difference 
Instead of leaving often-used pantry items out on the counter, tuck oregano, the pepper grinder, cooking spray, vanilla, and the like in the see-through pockets of an over-the-door organizer inside a cabinet.
Snack Attack 
The kids' favorite snacks always seem to be lying on the counter, don't they? You can keep them corralled and make them faster to grab by putting individual snack packs into attractive wire baskets.
What's Your Hang Up? 
Wooden pegs lend old-fashioned charm and provide the perfect way to keep aprons, dish towels, and pot holders off the counter. (Just make sure they're hung at least two feet away from the stove).
It's a Draw! 
Plastic storage containers (and their perpetually missing lids) can confound even the most determined organizing efforts. Dedicate a kitchen drawer to them, resisting the temptation to put anything else in it. Keep containers on one side, lids on the other.
Photo Credit: LifesizeImages/iStockphoto; Wwing/iStockphoto; Snappy_girl/iStockphoto; Jupiterimages/Thinkstock