Makes 20 truffles
What You Need:
¼ cup heavy cream
12 oz white chocolate chips
½ tsp almond extract
Pinch of salt
1 7.5-oz package Jordan almonds
What to Do:
1. Combine heavy cream and chocolate chips in a microwave-safe bowl. Heat in 15- to 20- second intervals, stirring after each, until chocolate is melted and cream is incorporated.
2. Stir in almond extract and a pinch of salt; refrigerate until set but moldable, about 1 hour.
3. Crush different colors of almonds in the food processor, one color at a time; place in separate bowls.
4. Scoop 1 Tbsp of truffle mixture and roll between your hands to form a small ball. Roll in almonds to coat. Repeat, alternating almond colors until truffle mixture is gone.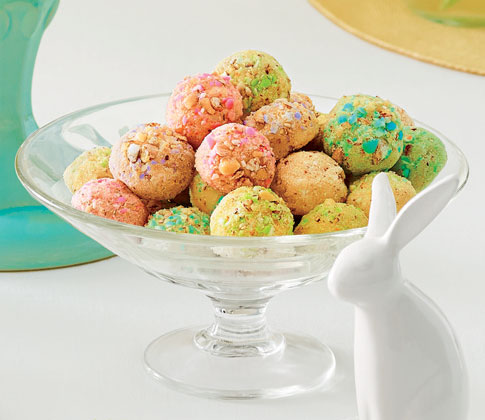 Plus:
3 MORE Leftover Easter Candy Recipes
Easter Crafts with Plastic Eggs
11 Easy Egg-Decorating Ideas
Photo Credit: Emily Kate Roemer; Food Styling: Jason Schreiber; Prop Styling: Mariana Vera