Makes 24 cookie pops
What You Need:
1 16-oz package of bake- and-break sugar cookies
1 tube white icing
1 7.5-oz bag jelly beans
1 7.5-oz bag gumdrops
What to Do:
1. Arrange bake-and-break sugar cookies on parchment-lined baking sheets. Insert a cookie pop–stick into each and bake as directed. Let cool completely.
2. Cover cookies in white icing and decorate with jelly beans and gumdrops, sliced in half.
Tip: Snip green tape into a leaf shape and add kids' names. Wrap around the "stem!"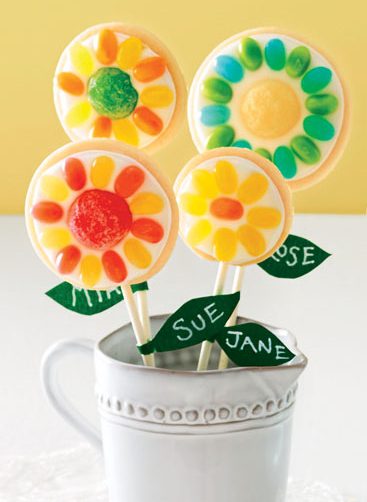 Plus:
3 MORE Leftover Easter Candy Recipes
Easter Crafts with Plastic Eggs
11 Easy Egg-Decorating Ideas
Photo Credit: Emily Kate Roemer; Food Styling: Jason Schreiber; Prop Styling: Mariana Vera