Foodies
Personal Pickles
What dad doesn't love a good bite? Personalize a jar of his favorite snack with our sweet #1 pickle label!
What You Need
• Our template
• Full-sheet label paper
• Dad's favorite pickles
Instructions
2. Remove existing label from the jar.
3. Trim your label to size.
4. Remove adhesive backing and slap it on!
Fashionistos
Lego Cufflinks
Talk about geek chic! We loved these cufflinks created by Jessy Ellenberger for
instructables.com.
What You Need
• Elmer's Super Fast Epoxy
• Latex gloves
• Cufflinks with 8mm pads (available on eBay or Etsy)
• Square Legos
Instructions
1. Work in a well-ventilated area. Only adults should use the epoxy; wear latex gloves and be sure not to get any on your skin.
2. Using the epoxy, glue the cufflinks to the Legos and press firmly into place.
3. Let them dry for 24 hours, then box them up.
Green Guys
Hanging Planters
Brighten up Dad's office with these colorful pots created by Rachael Smith for
Frankie
magazine in Australia. Check it out at
Frankie.com.au
.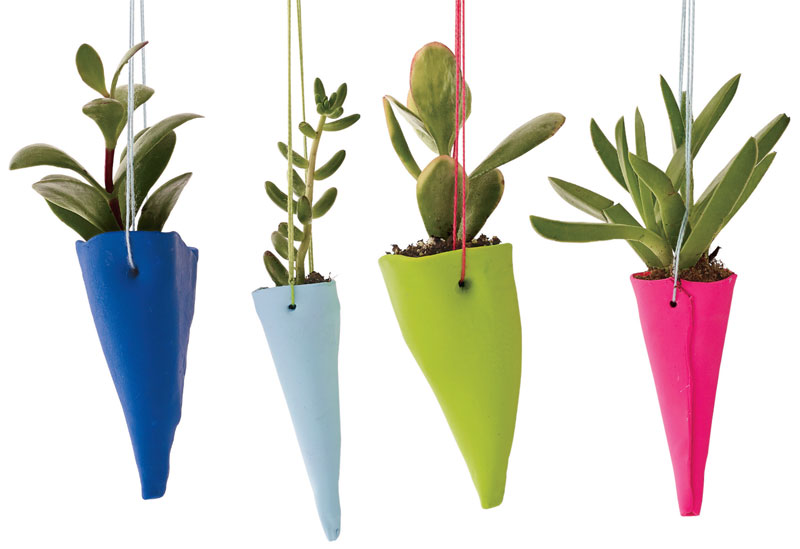 What You Need
• Polymer clay (like Sculpee)
• Wax paper
• Cutting blade or knife
• Baking tray
• Parchment paper
• Colored string
• Succulents
Instructions
1. Roll the clay in your hands or on a wax-paper protected surface. Flatten into a disk.
2. Cut a small cone shape and press the back edges together to make sure the cone sides connect (otherwise it may leak).
3. Poke a hole on each side of the cone.
4. Place a ball of wax paper in the cone so it doesn't collapse.
5. Bake on an oven tray covered in parchment paper according to package instructions.
6. Once your cone is done, let it cool.
7. Run string through the holes and tie to secure.
8. Plant your favorite succulent in potting soil, and place in bright but not direct sunlight.
Super Fans
Sports Coasters
Your resident sports lover will dig having such easy access to his favorite teams. Plus, they're so much fun for your little artist to make!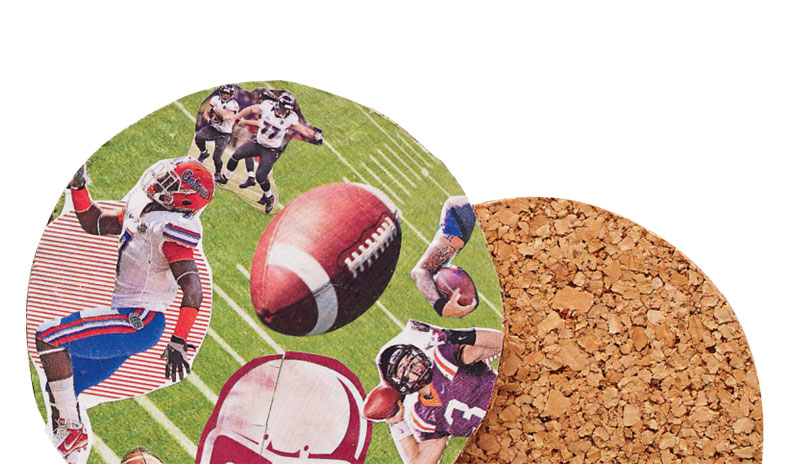 What You Need
• Large mug for
a template
• Cork sheets
• X-acto knife
• Magazines
• Acrylic varnish
• Paintbrush
Instructions
1. Place your mug top-down on the cork and trace around it.
2. Cut out with the X-acto knife (adults only!). Repeat four times.
3. Find and cut photos of Dad's favorite sports, players, and teams from magazines to collage.
4. Apply a layer of acrylic varnish (we used Mod Podge) to the coaster and create collage. Let each one dry for 5 minutes.
5. Apply two coats of varnish to the top and sides of your coaster to make it waterproof. Let the first coat dry before applying the second, and then let the second dry before giving to Dad.
Big Readers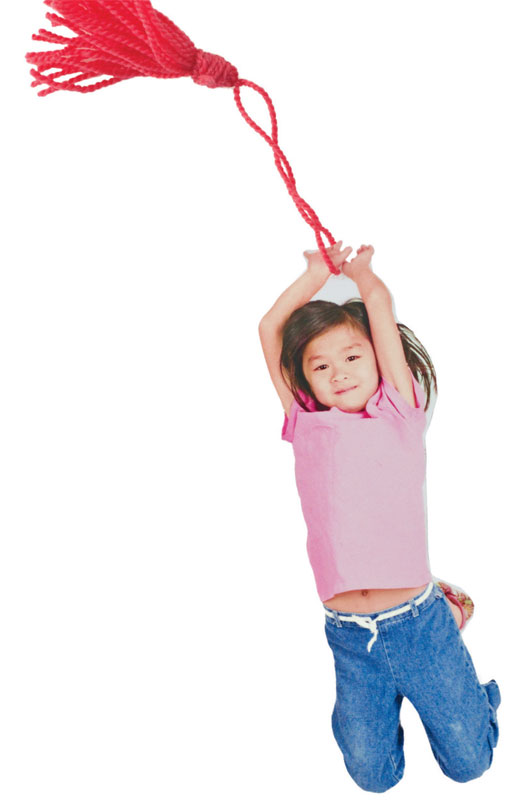 Photo Bookmark
Got a dad who refuses to give up his printed books? Make a memento of your little one that he can tuck inside.
What You Need
• Digital camera
• Photo printer
• Scissors
• Laminating sheets
• Hole punch
• Colored string or tassels
Instructions
1. Take some fun pictures of your child jumping.
2. Choose the best one to print and cut out.
3. Use the laminating sheets to laminate your photo, then trim.
4. Punch a hole in the top and run colored string or a tassel through the hole.
Techie Dad
Phone Cozy
This project is a breeze — it's so easy kids can make one for his cell, his tablet, even his favorite remote!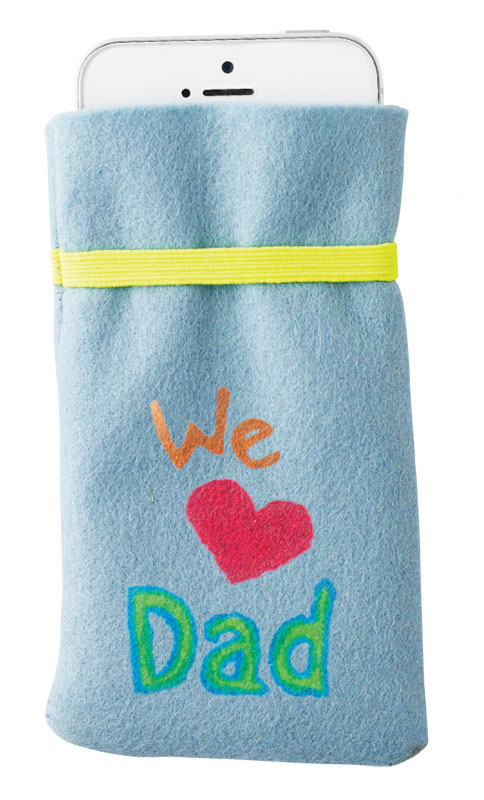 What You Need
• Wool felt
• Elastic band
• Needle and thread
• Paint pens to decorate
Instructions
1. Fold the wool in half. Place his device on the felt about ¼" from the fold; leave another ¼" at the top. Trace and cut out.
2. Cut a piece of elastic a little smaller than the circumference of the device. Fold the elastic in half and tuck the loop inside the open length of the pouch; pin into place.
3. Using a simple stitch, sew the bottom and side closed, securing the elastic as you go.
4. Turn it inside out, remove the pin, and then decorate!
Plus:
6 Books Dads Will Love to Share
Dad-Owned Companies Inspired By Kids: Animal Alphabet Flashcards