It's never too early for little ones to get their om on, says yoga therapist Michelle J. Fury, who works with kids at Children's Hospital Colorado. Check out a few big benefits of striking a pose:
Headache Relief
Just one yoga class can teach kids stress?busting techniques to help them manage recurrent pain.

Better School Performance
After three months of twice?weekly yoga classes, children with anxiety or hyperactivity improved their focus in the classroom.

Straighter Spines
Doing a side plank for 90 seconds a day, six days a week for seven months can reduce lumbar scoliosis curves in adolescents by nearly 50 percent. (Be sure your kid performs the exercise on her convex side.) this simple routine can eliminate the need for a corrective brace or surgery later on.

Stronger Immunity
Stress causes an increase in cortisol, which can weaken a child's immune system, found a 2014 study in The Journal of Immunology. Since yoga is a proven cortisol reducer, it might lower your kid's odds of catching a cold or flu.
PLUS: THE SIMPLE SECRET TO CONFIDENT, HAPPY KIDS
Try These Kid-Friendly Poses:
Downward Dog
Get on your hands and knees, then lift your behind to the sky, keeping your legs straight and palms on the floor. Wag your bottom!
Butterfly 
Sit up nice and tall on the mat and then bring the soles of your feet together. Move your legs slowly up and down like wings.
Seesaw
Sit on the mat facing your child, foot to foot, with your legs wide apart (like a V). Then, hold hands and gently rock forward and backward.
PLUS: THE BEST KIDS' EXERCISE TIPS
Om, Om Good!
There are 1.7 million U.S. kids doing yoga. If your child wants to join 'em, try one of these DVDs:

Yoga for Kids: Dino-Mite Adventure
This DVD is split into four dinosaur-themed sessions of about 10 minutes each. Our fave: Dino Duo, in which kids partner up for such awesome moves as high-fving with their feet! Bonus: lots of dino facts peppered throughout. Gaiam.com, $15, ages 5+

Sport Yoga
Little yogis incorporate poses inspired by soccer, basketball, bike riding, even surfng — and then give them a yoga twist (shouting "Goal!" after executing a warrior pose, for instance). There is even a short segment that's perfect for pre-bedtime chill-outs, too.
Namastekid.com, $15, ages 3+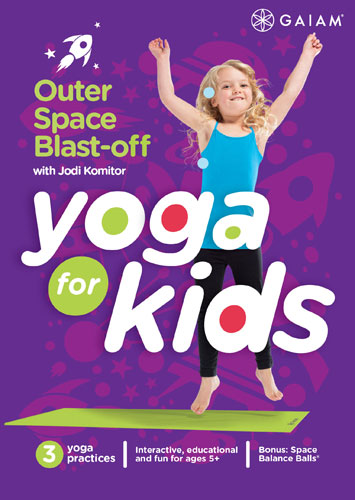 Yoga for Kids: Outer Space Blast-Off
Your child can pretend to orbit the earth or tour the solar system, all while learning intergalactic info and practicing basic poses. Pick up a kid-size balance ball if you can: The extra lesson requires one…and it's the most fun of all! Gaiam.com, $15, ages 5+
Plus:
How the Performing Arts Benefit Kids
The Benefits of Learning Music
How to Throw the Ultimate Rock Star Party
Photo Credit: Jamie Grill/Getty images; Yoga videos courtesy of their respective publishers