Every mom is a paparazzo these days. Whether it's with a digital camera or a cell-phone camera, you're always at the ready to capture those irresistible moments of family life or a night out with the girls. Trouble is, shots of chocolate-covered smiles, ballet recitals, and artsy sunsets often get buried away on memory cards and hard drives and never see the light of day. Why let those wondrous expressions of who you are wither away when you can create something truly memorable for all to see? To help you, we gathered tips from professional photographers — all moms — on taking, sharing, and displaying photos to help you hone your artistic eye and showcase who you are inside. Happy snapping! 
Take Great Photos
Use the rule of thirds. Mentally divide your screen into horizontal and vertical thirds, suggests Kymri Wilt, a travel photographer in southern California. Moving the subject left or right of center makes a more interesting composition.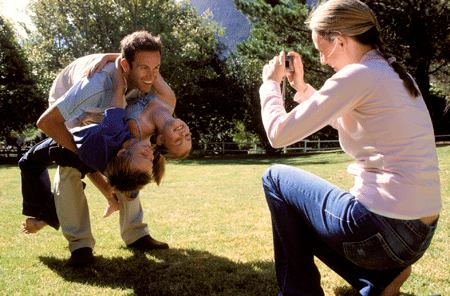 Change your perspective. Stand right above your subject or get down on its level, whether your subject is a shoe or a child. "When kids look up, they open their eyes wide and catch a great light," says Jenn Cooper, a Kansas City photographer who specializes in children's portraits.
Work with the sky. With landscape shots, let the earth fill the shot if the sky is overcast. If the sky is noteworthy that day, a brilliant blue or golden orange, let it dominate the image.
Avoid bright sunlight. A sunny afternoon generally means squinty eyes and dramatic shadows. The softest, sweetest light is at dawn or dusk.
Make a plan. If you're shooting at an event, make a mental or physical list of the people and details you want to capture. "There's nothing worse than realizing you missed a key element, like Aunt Jean's reaction when she entered her surprise party," says Dianna Hart, a photojournalist specializing in wedding photography.
Aim for imperfect moments. Someday you'll want to remember the time your 3-year-old scribbled all over the wall with permanent markers. Take photos of your child pouting or of your husband with bed-head, recommends Wilt.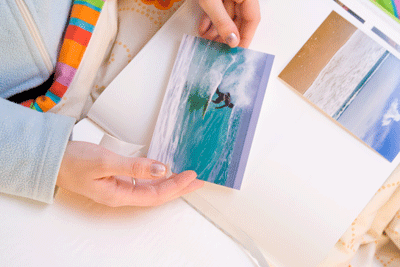 Show Off Your Work

Make a giant collage. Cover one wall in your home with photos you've shot. We recommend taking a more casual approach to "hanging" them — like using masking tape or tacks — so that you can change things up on a whim. 
Mount a few favorites. You don't need to invest in fancy framework. Photo labs can mount pictures on foam board, mat board, or styrene for a crisp, contemporary look. Since they're lightweight, you can hang them on doors and walls using sticky-backed Velcro strips from a hardware store.
Get it on paper. Despite all the fancy technology available, be sure to consider old-fashioned photo books. "Tangible items that you can pass down through generations are more meaningful and sentimental than looking at an album on a screen," says Wilt. "I love to sit down with my daughter and flip through our memories." 
Share Your Shots
Create a profile at Pinterest.com. It's a virtual corkboard where you can sort and post your own photos as well as images you find on the Internet that you want to keep for inspiration. Visitors to your Pinterest page can browse and comment on your images. Check out Parent & Child's Pinterest page.
Download Instagram, an iPhone app. It lets you edit the photos on your phone with cool effects and then send them to friends and family. 
Check out ZoomFoot.com. This site allows you to send lots of large photo files quickly and simply. Free!
Print a bunch of your photos and keep them in a special box on your desk or in your kitchen. Pop one into the envelope each time you send a greeting card. Don't forget to write a caption or note on the back first!
Plus:
Photography Games for Kids
Photos, from top: Julia Davila-Lampe/Getty Images; Pixland/Thinkstock; Thinkstock; Pinterest