The St. Johns River is Florida's longest river. Its history dates back centuries. Indian tribes and early European explorers lived along its banks. Today, the river is often associated with the city of Jacksonville's vibrant culture. However, overpopulation, misuse, and pollution are threatening the waterway's future. One of the most serious problems the river faces is nutrient overload, or eutrophication. Phosphates, nitrates, and other nutrients are necessary for a healthy ecosystem. But industrial runoff, fertilizers, failing septic tanks, and other pollutants are causing too much of a good thing. Algal blooms are now overtaking the St. John's River, depleting oxygen needed for fish and other aquatic life.
"Thick algae blooms can shade out the grasses so they get less light and can't grow well," says Gerry Pinto, a research scientist at Jacksonville University's Marine Science Research Institute. "Grasses stabilize the sediments and provide shelter and food to many different species of organisms, including us."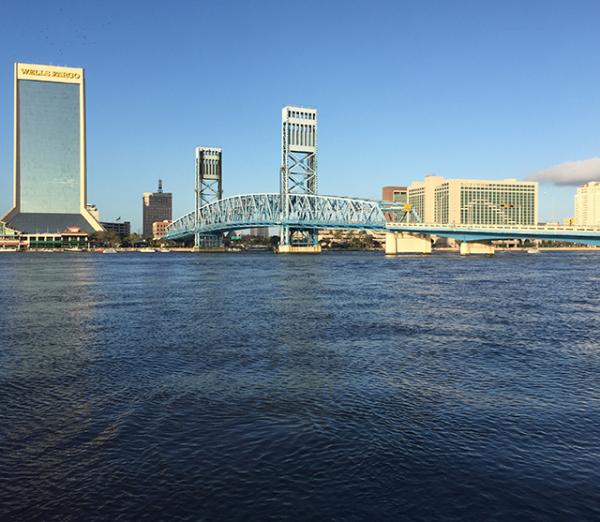 A view of the St. Johns River in Jacksonville.
IN HOT WATER
Jennie Busey is Education Director of St. Johns Riverkeeper, a nonprofit organization dedicated to raising awareness about issues plaguing the river. She says that the effects of eutrophication can be aggravated when authorities drain water from the river, thus "concentrating" pollutants. This contamination can mean dire consequences for industries that depend upon the river's health, including fisheries, ecotourism, and even real estate. "Nobody's going to want to live along a river that's dirty," Busey says.
But there is hope for St. Johns. Busey believes that the best way to improve the river's current state is by "activating citizens." She encourages residents to help by conserving water and monitoring how much fertilizer they use on their lawns and gardens, which are common sources of phosphates and nitrates.
State Senator Aaron Bean is working to protect the river from further damage, as lawmakers try to meet the needs of a growing population. "We know Mother Nature has a recipe," Bean told a reporter in Jacksonville. "When we tamper with that recipe, bad things can happen."