About Hoot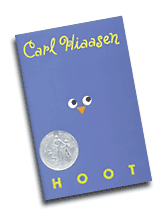 Find out what inspired the author to write this book.
Hoot was my first book for young readers, and for inspiration I started where many writers start — with their own lives. The story of the endangered burrowing owls is really nothing more than a page from my own Florida childhood.
I grew up on what was then the edge of the Everglades, and the little owls were abundant in the open scrub and pasturelands. Development was coming fast, though, and it seemed like every month there were more projects being built, and more bulldozers tearing up the land. My friends and I watched most of the wildlife — including the owls — start to disappear. We pulled the same trick as Mullet Fingers does in the novel, pulling out the survey stakes or rearranging them. Sometimes it slowed the bulldozers down, but eventually the owl dens were buried and some ugly shopping mall or condominium village popped up instead.
One cool thing about writing your own books is that you get to write your own endings, and I was determined that the good guys would win in Hoot. I wanted the owls in the novel to survive, which, sadly, didn't happen in real life when I was a kid.
As for the characters, Roy, Beatrice, and Mullet Fingers all came out of my imagination.
I started working on the book one summer in Montana, and that's where I got the idea that Roy lived in that beautiful mountain state before moving with his family to Florida. I suppose that the Mullet Fingers character is the closest one to myself in the book — although I never ran away from home (or school), and my parents were never divorced. It's his spirit, though, and his love of nature that I most identify with.
When I finished Hoot, I hoped the young readers in my family would enjoy it, and I hoped kids all around Florida would get a chance to read it. At the time I had no idea that the book would win a Newbery Honor, or that it would become so popular around the rest of the country and even overseas. It was a wonderful surprise, and quite amazing.
But I've learned something important, and also inspiring, from the thousands of letters I've received from young readers. Even if they live somewhere that doesn't have owls, they've got special places in their own lives, and beautiful wild birds or other animals that they believe should be protected. They have the same passionate feelings as Roy, Beatrice, and Mullet Fingers, and the same true hearts.
Making that kind of connection is the best reward that any writer could ask for.