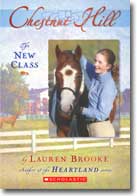 Hi, and welcome to Chestnut Hill! I'm so excited to be able to invite you onto the beautiful campus, with lush green lawns stretching up to the white colonial-style Old School House at the top of the hill. If you look over there, between those gorgeous-colored beech trees, you'll just get a glimpse of Adams, the dorm where Dylan, Malory, Honey and Lani live…
Of course, Chestnut Hill is only a figment of my imagination, but you can probably tell how clearly I see it in my mind!
Chestnut Hill really is a dream come true for me. When I was growing up, I always thought it would be amazing to go to a school where I could ride ponies as part of gym class. At Chestnut Hill, horse riding is part of the daily routine, and taken as seriously as field hockey or basketball. I purposely equipped the Chestnut Hill yard with all the facilities a young rider could wish for, without being unrealistically state-of-the-art. You can have great riding experiences and learn a wide range of disciplines without equine hydrotherapy pools or Olympic-standard cross-country courses! There really are schools that have all the facilities at Chestnut Hill - what lucky students!
Before I started writing the first story, I wrote a list of over 300 names for the students and their teachers, complete with physical descriptions and information about who was in a riding program, whether they had made any jumping teams, and their favorite subject. I fell in love with Dylan, Honey, Malory, and Lani right away - their characters seemed so real to me. I also drew maps of the campus and the stable yard, and thought up names and descriptions for all the horses so they would remain consistent throughout the stories.
One of the big differences between Chestnut Hill and Heartland is that this time we'll get to know the same ponies over the entire series. Although there were regular equine characters at Heartland, like Sundance and later Spindleberry, most of Amy's time was spent meeting new ponies, dealing with their issues, and returning them happily to their owners. In Chestnut Hill, we'll be able to watch the central characters forge relationships with ponies that become very special to them, even if they don't own them. If you ride at a riding stables, you'll know it's hard not to have a favorite pony. It will be great to see the main characters getting to know which ponies are their favorites, and developing their riding skills through the semesters. Of course, every student will have to deal with her own share of changes. Things are always moving forward in the riding world!
I'm not a highly competitive rider myself, but competitions are a lot of fun to write and read about! Amy's chance to compete (on the wonderful horse Storm) didn't work out because of her commitment to her mom's therapy work, but at Chestnut Hill there's a lot of attention given to trying out for one of the school's prestigious jumping teams. Only two of the main characters make it on to the team at first - you don't have to be competitive to enjoy riding! - but all the girls get caught up in the excitement of taking part in the All Schools League. Tension is even higher among the Chestnut Hill students at the start of the series because the former Director of Riding, Elizabeth Mitchell, left at the end of the previous semester to coach the team at Allbright's School, their hottest rivals!
Finally, I know how much you appreciated the emotional content of Amy's stories, as she comes to terms with her mom's death, gets to know her older sister Lou a little better, and starts her relationship with Ty. I love writing about human issues, and thought it would be great to explore friendships - and rivalries - between a class of students at boarding school. Friends are even more important to these girls because they are living away from their parents and guardians, so all their emotional support has to come from their classmates. Any changes in those relationships, or additions to the class, will have a huge impact on their personal lives. It's also worth bearing in mind that just because the girls have a love of horses in common, it doesn't mean that they'll get along in other areas of school life! The students at Chestnut Hill come from a wide range of backgrounds, from a highly privileged East Coast lifestyle to a shy girl recently moved from London, England. No matter where they are from, the girls will all face the same challenges as they settle into boarding school life.
Friendship, rivalry, drama and a fabulous school tradition - with horse-riding on the timetable? Who could ask for more?!
All my love
Lauren