Keep the Herd Safe is packed with fun and informative activities
that will encourage your students and their families to plan and
prepare for disasters and stay connected with the In Case of
Emergency Card, or ICE Card. These safety and preparedness
resources were created by Save the Children in partnership
with Scholastic, and inspired by the upcoming film
Ice Age: Collision Course.
Download the
ICE Card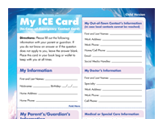 Materials and Resources
Download these fun emergency preparedness activities:
Multimedia
Share this song
with your children
and get them
excited about
prepping for safety!
The
Prep Step
Listen Now