ALA MIDWINTER EVENTS
---
Join us at these special ALA Midwinter events
Truth Be Told:
The Transformative Power of Story
---
Join Tami Charles, Sayantani DasGupta, Sharon G. Flake, Alyson Gerber, Kwame Mbalia, and Prince Joel Makonnen to discuss their books, which span from realism to fantasy, and explore questions of identity, agency, and truth.
Friday, January 22, 2021
6:00 P.M.–7:00 P.M. CT
Register Now
ALA Midwinter Exclusive Sessions & Events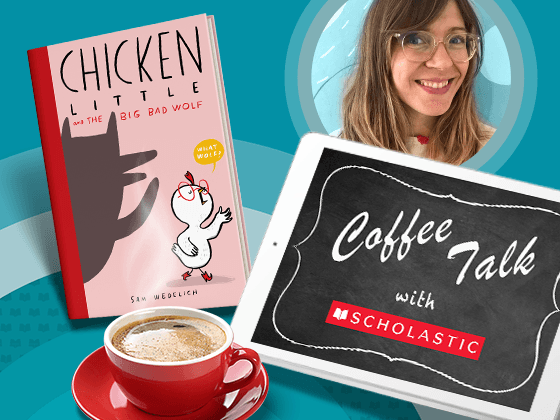 Scholastic Coffee & Book Talk with creator Sam Wedelich
Sunday, Jan 24, 9:30 A.M.–10:00 A.M. CT
"Chicken Little" creator Sam Wedelich and editor Tracy Mack discuss the latest escapades of Sam's iconic character, following an introduction from Lizette Serrano and Emily Heddleson as they discuss other buzzy 2021 titles.
Leveraging Scholastic to Support Your Communities Now
On demand, at ALA Midwinter
In school or remote, Scholastic supports students online with digital programs and offline with amazing books. Join us to learn how Scholastic can keep students learning and reading anytime, anywhere.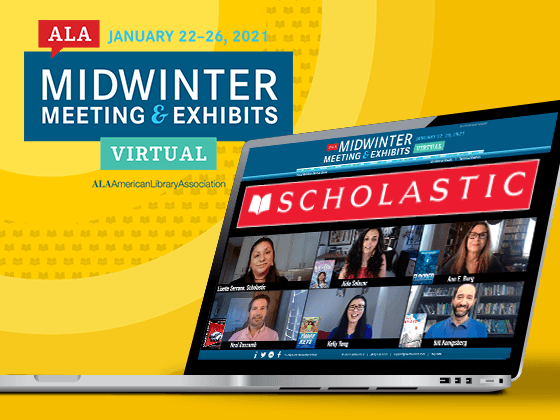 Join us in the
Virtual Exhibit Hall
In the Library Marketplace
Join us in the ALA Midwinter exhibit hall for live chats, reader resources and more. All chat participants will be entered for a chance to win exclusive giveaways, including a 100-book collection!
Go to ALA Midwinter
Hot Off the Press
---
New books and favorite authors to add to your shelves!
Click "Open Details" to learn more!
Digital review copies available two months before publication date.
Book Fairs &
Book Clubs
---
Access to books inside the home is essential. For 100 years, Scholastic has been committed to literacy and helping the individual child to learn and grow. Book Clubs and Book Fairs provide schools and parents with easy and affordable ways to get the right books that children will love.
Scholastic
Book Fairs
---
Flexible Fair Models
No matter what your school setup looks like, kids can still experience the magic of a Scholastic Book Fair. We have new models and solutions to ensure that your Fair is safe, easy, and meets your school's unique needs.
Learn More
Want to Inspire Young Readers?
Book a Virtual Author Visit
Inspire your students to read—and write or illustrate!—with a 30-minute virtual session featuring an author or illustrator from some of the best publishers. It's easy to schedule and host whether your students are learning in-person or at home this year.
Learn More
Scholastic
Book Clubs
---
Scholastic Book Clubs has made discovering the joy of reading a cherished part of childhood. Handpicked by Scholastic editors, the catalogs are filled with the best books—presenting you with a useful resource to suggest books, and giving families an easy way to order the right books that their kids will love.
Why Scholastic Book Clubs?
Earn Bonus Points with every order for FREE Books and resources.
Access the monthly flyers online for easy ordering.
Ship books to families' homes, directly to school, or to your home address.
Learn More
Check out the
Judy Newman at Scholastic blog each week for a specially priced book with FREE activities!
Remote Teaching &
Learning Resources
---
Equitable learning opportunities start with access. Scholastic Digital programs provide equitable, 24/7 access to easy-to-use, age-appropriate, and effective learning resources to support families and educators – in and out of the classroom.
---
Early Literacy
|
Grades Pre-K–3
BookFlix
®
Hundreds of animated stories from Weston Woods paired with best-selling nonfiction ebooks to build a love of reading, real-world knowledge, and early literacy skills. Includes Spanish pairs!
---
Early Learning
|
Grades Pre-K–3
Watch & Learn Library
An online library of hundreds of nonfiction videos with real-world footage to build science, social studies, and social-emotional learning knowledge. Spanish versions included for every video!
---
Science & Social Studies
|
Grades 3–6
TrueFlix
®
An interactive resource to help beginning researchers build their science and social studies content-area knowledge. Leverages the award-winning True Books!
See All Digital Resources
---
Bringing picture books to life with videos – and a new streaming option!
---
Introducing Weston Woods Plus
Weston Woods audios and videos are now easy to stream with WESTON WOODS PLUS, a new digital delivery platform. From classic picture books to today's best sellers, we have hundreds of titles to choose from and purchasing options designed to meet the unique needs of your school or library
EXPLORE THE CATALOG
Support for Families
& Communities
---
As you know, one of the most effective ways to improve reading achievement is to increase access to books. The Coronavirus pandemic has made this even more difficult to achieve. Whether your library is open or closed, ensure that all children you serve have access to books without having to worry about the books being returned.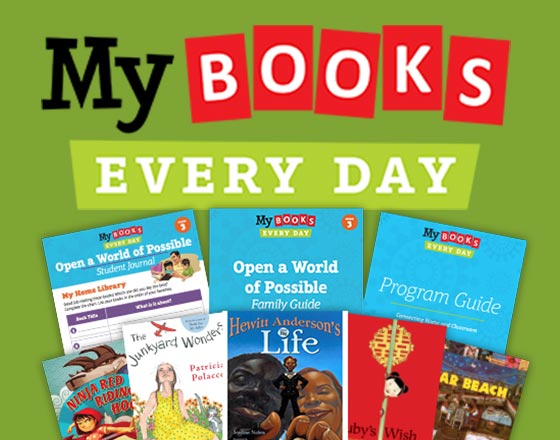 My Books Everyday
Diverse titles paired with hands-on activities for grades Pre-K to 3. Reinforce learning skills, build home libraries, and encourage year-round independent learning. Themes include Social and Emotional (Super Reader), STEAM (Let's Discover), and Open a World of Possible.
Learn More
Grab and Go Books
Culturally relevant authentic texts (English and Spanish) for grades Pre-K to 8. Titles reflect children's interests, spark imagination, and help develop lifelong learners. Grab and Go packs include 3-5 books, Think More Sheets, and a Family Guide to Literacy.
Learn More
First Aid For Feelings
Denise Daniels, a leading child development expert, has teamed up with Scholastic and the Yale Child Study Center to help children, families, and community leaders cope during this pandemic. This free workbook is available for download in English, Spanish, and French.
Download Now
---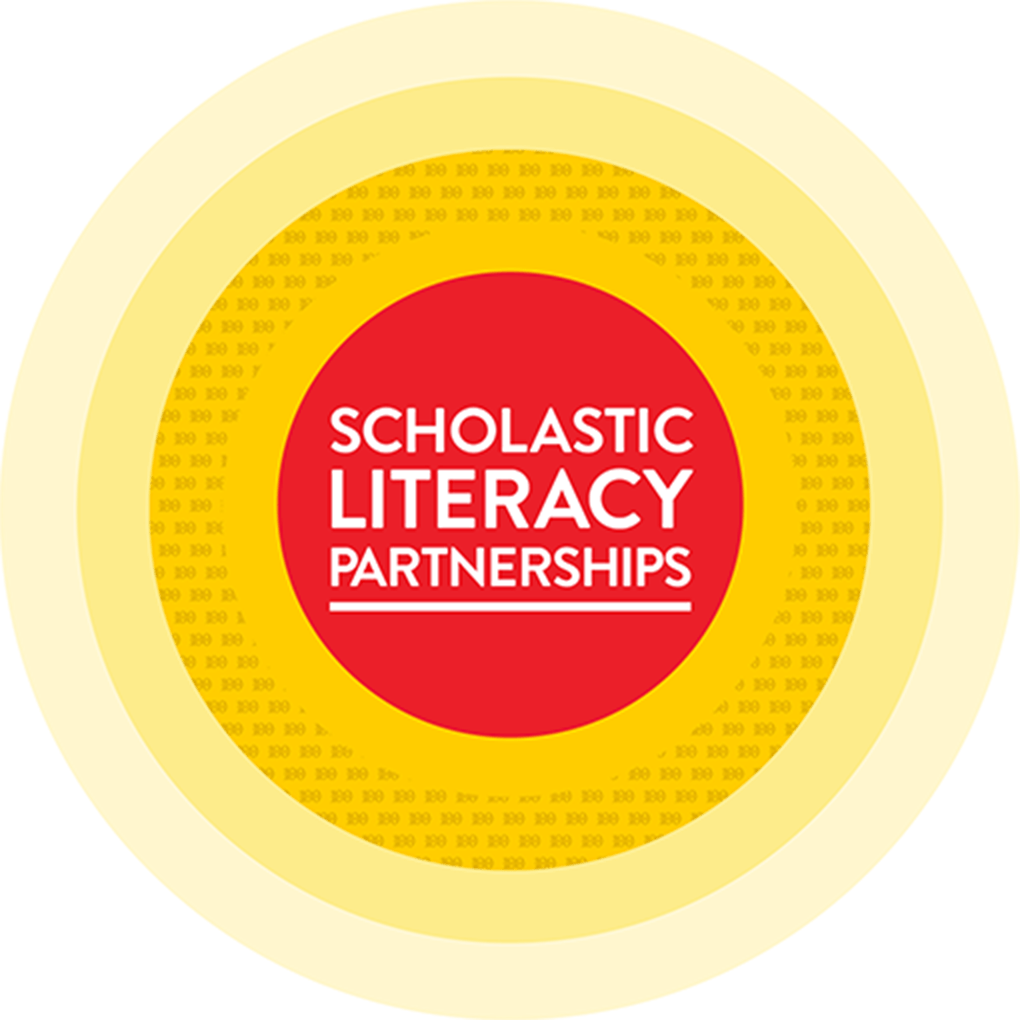 Scholastic Literacy Partnerships
Free membership gives you access to diverse, multicultural titles in Spanish and English, that meet the needs of all children from birth–12th grade. Enjoy discounts of up to 68%, free shipping, and 10 free Bonus Books for every $150 spent on books purchased for child ownership. Join a community of like-minded librarians across the country by providing the resources that empower families to build text-rich home environments.
Sign up now
SWAG AND SWEEPSTAKES
---
Get the ALA experience at home with these great digital and physical offerings from Scholastic!
Let's
Connect
---
Our favorite part of ALA is seeing all of your smiling faces when you come to say hello!
Contact any of these Scholastic representatives and let us know how you're doing, what you're reading, and how else we can help.