Knights of the Lunch Table
Don't miss these wonderful graphic novels about making friends, testing your limits, and overcoming challenges.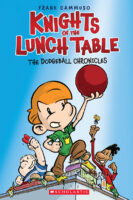 The Dodgeball Chronicles
by
Frank Cammuso
Illustrated by
Frank Cammuso
Artie King just wants to ease into life at Camelot Middle School. He's got new lunch buddies, Percy and Wayne, and his science teacher, Mr. Merlyn, is pretty cool. But then there's scary Principal Dager and big bad Joe and The Horde, a bunch of brawny bullies who rule the school.
Read More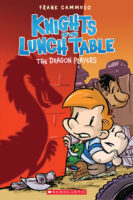 The Dragon Players
It's Dragon Day, the annual fair and festival at Camelot Middle School. Artie King and his pals Wayne and Percy have big plans to build a remote-controlled dragon, enter the robot joust, and win the coveted Dragon Cup.
Read More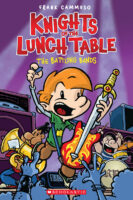 The Battling Bands
The Knights seek fame and fortune by entering a talent show!
A battle is looming at Camelot Middle School — a battle of the bands, that is! Artie, Wayne, and Percy enter the talent show seeking fame and fortune. But only one of them plays an instrument.
Read More