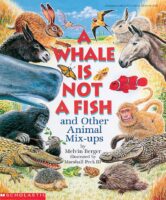 A Whale Is Not a Fish
by Melvin Berger Illustrated by Marshall Peck III
What is the difference between a whale and a fish? Yes, a whale is a mammal and a fish is not, but did you also know that a whale has sideways tail fins while a fish's fins run up and down? That's why when a whale swims it swings its body up and down, and when a fish swims, it moves from side to side. And how about this: a toad, unlike a frog, has no teeth and spends most of its time on land. A moth has wings that are connected, while the wings of a butterfly are separate. And one way to tell a rabbit from a hare is the simple fact that a rabbit is born without fur and with its eyes closed, while for a hare the opposite holds true.
The characteristics of mammals large and small, as well as reptiles, insects, and marine life are compared and contrasted in Melvin Berger's informative and often surprising book. The facts featured about each animal provide a wealth of information on the animals' habitat and behavior. Marshall Peck III's illustrations are detailed with texture and color and capture the distinctions of each animal in a way that is sure to invite curiosity and further study from anyone interested in basic zoology.
Ages

8, 9, 10

Interest Level

Grades 3 - 5

Lexile Measure

IG650L

DRA

38

Guided Reading

P

Number of Pages

64
About the Author and Illustrator
Melvin Berger
Melvin Berger is a noted author of children's fiction. Learn about how his first book for children, Science and Music,set the stage for a long and successful writing career.
The Reading Toolkit