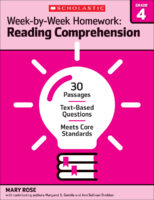 Week-by-Week Homework: Reading Comprehension Grade 4
by Mary Rose
Created by an experienced classroom teacher, this resource features ready-to-go homework pages that target grade-level reading standards for both literary and informational text. Assignments include a reading passage and a short letter to families that gives directions and suggestions about how to help their children before, during, and after reading. Text-dependent comprehension questions for each passage also support the specific reading standard. Perfect for effectively building the school-home connection.
How to use this product: Why Silent Reading Is Not Enough (Read-Aloud!)Silent reading may perpetuate students' mispronunciation of words, which hampers their comprehension of the text. When you hear students mispronounce words, use it as an opportunity to help them connect written and spoken words.
Ages

9

Interest Level

Grade 4

Genre

Functional and How-To
About the Author
Mary Rose
Mary Rose has more than 30 years of classroom experience and has taught kindergarten, 1st and 4th grades. She has been a long-time contributor to Storyworks and Instructor magazines.
The Reading Toolkit