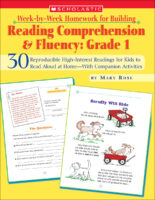 Week-by-Week Homework for Building Reading Comprehension & Fluency: Grade 1
by Mary Rose
Bestselling author Mary Rose has selected short readings perfect for first graders. Kids take these home with the companion comprehension activity and practice reading with the support of a grown-up. Easy tips for parents help them help their kids learn to read. The results are phenomenal!
Teachers, parents, and students alike rave about this simple, effective way to boost reading skills. Great for building the home-school connection!
Ages

6

Interest Level

Grade 1

Publisher

Scholastic Inc.

Number of Pages

96
About the Author
Mary Rose
Mary Rose has more than 30 years of classroom experience and has taught kindergarten, 1st and 4th grades. She has been a long-time contributor to Storyworks and Instructor magazines.
The Reading Toolkit