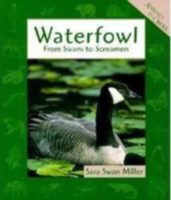 This book describes many different members of the waterfowl order, as well as their different characteristics.
Series Information
Children of all ages love animal studies, and "Animals in Order" fits right into the curriculum with easy-to-understand text and breathtaking wildlife photos that introduce a world of spectacular creatures. What does a bobcat have in common with a badger? Are all insects bugs? "Animals in Order" helps middle graders make sense of the animal kingdom by focusing on specific animal "orders" and the traits and behaviors that make them unique.
Series Features
• Focuses on the traits and behaviors that make each animal order unique
• Breathtaking wildlife photos capture animals in their natural habitats
• "Words to Know" glossary clarifies key terms
• Index makes navigating subject matter easy
Ages

8, 9, 10

Interest Level

Grades 3 - 5

Publisher

Tandem Library

Genre

Informational Text
About the Author
Sara Swan Miller
Sara Swan Miller was the director of the Preserve School program and an outdoor environmental educator at the Mohonk Preserve in New Paltz, NY.
The Reading Toolkit