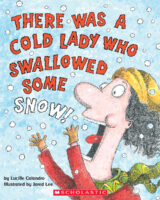 There Was a Cold Lady Who Swallowed Some Snow!
by Lucille Colandro Illustrated by Jared D. Lee
This bundled-up gal isn't playing in the snow; she's slurping it up as fast as she can. Raccoons, reindeer, and bears look on with stunned amazement as she gobbles up even stranger items like a pipe, a scarf, two lumps of coal, and even the branches of a tree. What could she possibly be up to? What do all of these items add up to?
Delightful sound effects and fun-to-say words, like tinkle, crunch, and yummy, are written out as part of the comic pictures, providing a great way for the youngest readers to participate in the read-along fun.
Series Information: Whether this wacky old lady is eating bats (for Halloween), leaves (in fall), or clovers (for St. Patrick's Day), she's sharing what's special about each holiday or tradition in a fun, fresh way. With just enough suspense, the catchy rhymes in these picture books encourage readers to guess their way toward a satisfying ending. Plus, as the old lady gobbles and gobbles and gobbles, new readers get to experience rhyme, repetition, cause and effect, and sequencing, which can boost fluency and vocabulary skills. No wonder so many kids have an enormous appetite for books starring this lovable lady!
Ages

4, 5, 6, 7

Interest Level

Grades PreK - 2

Guided Reading

K

Publisher

Scholastic Inc.

Book Type

Cumulative Tale

Genre

Comedy and Humor, Poetry, Songs, Verse
About the Author and Illustrator
Lucille Colandro
Lucille Colandro is the author of the There Was an Old Lady books. She wrote her first Old Lady book, There Was an Old Lady Who Swallowed a Bat, when an editor asked for a Halloween book with a lady who didn't die at the end. Lucille's old lady swallows everything from leaves to pants to snow—always with a funny surprise at the end!
Jared D. Lee
Jared Lee is the illustrator for the Black Lagoon series.
The Reading Toolkit