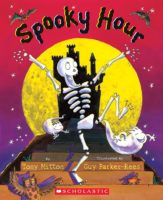 Spooky Hour
by Tony Mitton Illustrated by Guy Parker-Rees
Skeletons dance by, their bones clicking and clacking, as witches fly past on their brooms, cackling. Ghosts and goblins and big, fat, hairy spiders set the scene, as kids rhyme their way through the night on their way to the spookiest party ever!
"Listen! Hush! Oooh, what's that sound? The midnight spooks are coming round."
Tony Mitton and Guy Parker-Rees team up again to create another fun-filled book. Halloween is the setting as kids rhyme their way through the night and to a spook-filled birthday party. Emphasized sounds such as "CLICKETY CLACK" and "HISSSSS!" will allow younger children to enjoy the fun of reading.
Parker-Rees's illustrations, in the tradition of Dinosaurumps! and K Is for Kissing a Cool Kangaroo, are sure to delight.
Ages

6

Interest Level

Grade 1

Book Type

Counting and Number Book

Genre

Poetry, Songs, Verse
About the Author and Illustrator
Tony Mitton
Tony Mitton only began writing for children around the age of 40, but he now writes full time. His first collection of poems, PLUM, was published in 1998.
Guy Parker-Rees
Guy Parker-Rees is a bestselling illustrator.
The Reading Toolkit