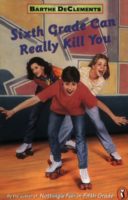 Sixth Grade Can Really Kill You
by Barthe DeClements
Helen is a great baseball pitcher and class clown who struggles with reading. When she starts sixth grade, she is forced to face her reading problem. As a result, she acts out, and now not only does she have a reading problem, she also has a behavior problem.
In the middle of the year, she is switched into the other sixth-grade classroom and with the support of a wonderful teacher, Helen chooses to enter the special education class. She manages to overlook the inevitable teasing of her classmates, and with hard work and help from her parents, friends and the school, Helen's reading improves.
Author Barthe DeClements attempts to tell this story from the perspective of a child with a learning disability. Readers might wonder why she never connects Helen's awful behavior to her frustration with reading. Readers may also wonder why Helen has to wait to get help when all along it is right down the hall. Still, the relationships that Helen builds, along with the dialogue are delightful and realistic.
Readers will find the tale funny, sad, and engrossing. In it, DeClements includes Elsie and Jenny, characters from Nothing's fair in Fifth Grade.
Ages

9, 10, 11, 12, 13

Interest Level

Grades 4 - 8

DRA

40

Guided Reading

S

Book Type

Chapter Book

Number of Pages

160

Genre

Realistic Fiction
The Reading Toolkit