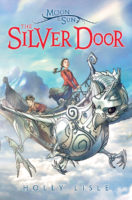 In the battle between nightlings and humans, it's prophesied that the Sunrider is destined to unite the magics of the sun and moon for the good of all. She alone can lead the fight to defeat an immortal evil.
Genna is the chosen Sunrider, and under nightling protection, she must learn the ancient magics so she may bring an end to the war between slaves and masters. When she escapes a brutal plot concocted by the evil kai lords, Genna finds herself cast into the depths of the Sun Wizards' world.
As the war begins to cross the moonroads, threatening to destroy all the worlds beneath the sun and moon, Genna must rise and harness her new powers in order to save her people. Will Genna, with the help of her brother, Dan, and their friends Catri, Doyati, and Yarri, be able to fulfill her fate?
Master storyteller Holly Lisle once again transports readers to the twilit realms of the night worlds in this enchanting and gorgeous second tale in the "Moon & Sun" series.
Ages

8, 9, 10, 11, 12

Interest Level

Grades 3 - 7

Lexile Measure

830L

Genre

Fantasy
About the Author
Holly Lisle
Holly Lisle is the author of many bestselling adult suspense and fantasy novels. Her most recent project is the Moon and Sun series for middle grade readers.
The Reading Toolkit