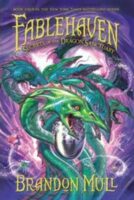 Fablehaven: Secrets of the Dragon Sanctuary
by Brandon Mull Illustrated by Brandon Dorman
The magical preserve Fablehaven provides refuge to numerous mystical species: centaurs, trolls, satyrs, ogres, fairies, minotaurs, brownies, imps, nymphs, and many others. But some beings are too large and powerful to be confined to regular enchanted refuges. These mightiest of creatures dwell inside the dragon sanctuaries.
Two hidden artifacts have been found. More preserves face destruction as the Society of the Evening Star relentlessly pursues new talismans. Desperate to stop them, Kendra discovers the location of the key to a vault housing one of the artifacts in Patton's Journal of Secrets. To retrieve the key, the Knights of the Dawn must enter a death trap — a dragon sanctuary called Wyrmroost.
Ages

9, 10, 11, 12

Interest Level

Grades 4 - 7

Publisher

SS5 - SIMON & SCHUSTER

Number of Pages

544

Genre

Adventure, Fantasy
About the Author and Illustrator
Brandon Mull
As a child, Brandon Mull wanted to explore other worlds through wardrobes and rabbit holes. When that did not work out, he resorted to daydreaming about such adventures instead. Inspired by the Narnia books and The Lord of the Rings series, Brandon explored imaginary worlds in his mind.
The Reading Toolkit