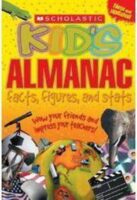 SCHOLASTIC KID'S ALMANAC 2004 Edition
by Georgian Bay Illustrated by Bob Italiano, David C. Bell
In watching television or in surfing the Internet, today's children absorb visual information every day. Many of them are most comfortable learning new facts or ideas this way. The Scholastic Kid's Almanac was created with these 21st century kids in mind.
The Scholastic Kid's Almanac is an engaging visual collection of facts and statistics on a variety of topics children will encounter in their homework or just want to know more about for fun. Each colorful, kid-friendly page is designed to stimulate the minds of today's visually oriented children.
Organized as an A-to-Z collection of information on nearly 40 essential and high-interest topics, the Scholastic Kid's Almanac offers kids easy access to the current information they need. Each topic includes an introduction, a chronology of important dates, notable figures, key terms, and numerous tables, charts, and other graphics.
The Scholastic Kid's Almanac is not just a collection of numbers. Its focus is on observing trends and providing context to help kids grasp the full range of a topic. As a result, this resource will stay current and will continue to offer children more comparative information than encyclopedias or other almanacs do.
The Scholastic Kid's Almanac is THE resource for colorful, up-to-date facts and statistics both for success in schoolwork and for browsing pleasure.
Ages

9, 10, 11, 12

Interest Level

Grades 3 - 12

Publisher

Scholastic Inc.

Number of Pages

352

Genre

Functional and How-To, Reference
About the Author and Illustrators
The Reading Toolkit