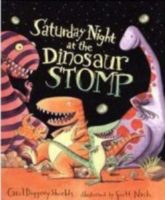 Saturday Night at the Dinosaur Stomp
by Carol Diggory Shields Illustrated by Scott Nash
Ankylosaurus drummed on his hard-shelled back
Boomalacka boomalacka! Whack! Whack! WHACK!
In infectious rhyming verse that will have your students dancing around the room, Carol Diggory Shields introduces the event of the eons: Saturday night at the Dinosaur Stomp!
After brushing their teeth and curling their tails, the guests are ready to strut their stuff, twisting and turning, fandangoing and tangoing, and joining the conga line. The band rocks into the wee hours of the morning, and the partygoers not only shake the house, they shake the world, causing the first earthquake, and turning volcanoes into a fireworks display.
As dino-savvy kids will notice, all the tongue-twisting names — including Plesiosaurus, Pterodactyl, Tyrannosaurus Rex, Protoceratops, Diplodocus, Iguanadon, Tarchia, and Pentaceratops — are scientifically correct, and within the illustrations' liberal interpretation are recognizable and accurate details. (If scientists can't account for the polka dots, well, they probably can't disprove them either.) Scott Nash fills his colorful pictures with energy and festivity, ensuring that kids will want to join the fun on any day of the week.
Ages

5, 6, 7

Interest Level

Grades K - 2

Publisher

Tandem Library

Genre

Comedy and Humor, Poetry, Songs, Verse
About the Author and Illustrator
The Reading Toolkit