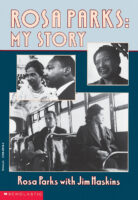 Rosa Parks is widely known as perhaps the single most important symbol of the civil rights movement. Her refusal to give up her seat to a white man in the colored section of a segregated bus in December 1955, could be said to have incited the movement that eventually led to the end of segregation laws in the South. Rosa was arrested for her defiance. Rosa narrates in a calm, direct fashion how this singular act grew out of a lifetime of being dissatisfied with any kind of disrespectful treatment.Born Rosa McCauley in 1913 into a respectable middle-class family near Montgomery, Alabama, the center of the movement, and the details she gives readers of her family history are profuse, but never boring. The young Rosa acutely feels the differences between the treatment of blacks and whites. For instance, white children got nine months of education in the year, while black children received only five. And there were no school buses provided for black children. Writes Rosa, "We didn't have any of what they call 'civil rights' back then, so there was no way to protest and nobody to protest to. Rosa traces the long arc of her life, explaining the conflation of her marriage and activism, her involvement in the fight for voting rights, her famous arrest, subsequent move from the South to Detroit, and the years since where she has continued in the struggle, and has seen her efforts honored even in Montgomery: the bus on which she was arrested in 1955 was on the Cleveland Avenue line. Twenty years later, Cleveland Avenue was renamed Rosa Parks Boulevard.Poignantly illustrating this important account by a seminal American voice are black-and-white photographs contributed by the Library of Congress, the NAACP, and Rosa Parks, herself. A chronology of Parks' life is also included.
Ages

9, 10, 11

Interest Level

Grades 4 - 6

Publisher

Tandem Library

Book Type

Chapter Book

Genre

Biography and Autobiography
About the Authors
Rosa Parks
On December 1, 1955, Rosa Parks was on her way home from work when she was arrested. Her crime was refusing to move to the back of a public bus so that a white man could take her seat. Her arrest was followed by a citywide bus boycott by African Americans. The attention it received increased national awareness of racial segregation and discrimination. Since that time, Parks has been known as the mother of the civil rights movement.
The Reading Toolkit