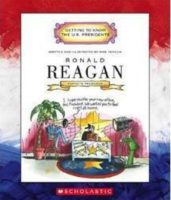 Ronald Reagan
by Mike Venezia Illustrated by Mike Venezia
In this book from the Getting to Know the U.S. Presidents, readers will learn about the life and presidency of Ronald Reagan. This book includes information about Reagan's acting career, the Cold War, and the Iran-Contra scandal.
Fans of Venezia's highly praised artist biography series will be drawn to this new series. The author presents the lives of U.S. presidents in an entirely fresh way with his unique format — a blend of casual prose, historical reproductions, and amusing original illustrations.
Grades K-4 Social Studies Standards
Power, Authority, & Governance:VI
• Distinguish among local, state, and national government and identify representative leaders at these levels such as mayor, governor, and president.

Civic Ideals and Practice: X
• Identify key ideals of the United States' democratic republican form of government, such as individual human dignity, liberty, justice, equality, and the rule of law.
• Recognize that a variety of formal and informal actors influence and shape public policy.
Ages

8, 9, 10

Interest Level

Grades 3 - 5

Number of Pages

32

Genre

Biography and Autobiography, Informational Text
About the Author and Illustrator
The Reading Toolkit