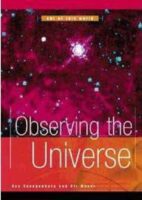 Recent decades have seen science make mind-boggling advances in the tools and techniques it has available for observing deep space. Mountaintop observatories and spaceborne instruments, such as the Hubble telescope and the various unmanned spacecraft that have photographed the planets, are allowing scientists to see such distant events as the birth of stars, the collisions of galaxies, the disappearance of matter into black holes, the whirling of pulsars, and the blinking of quasars.
As technology allows scientists to look ever father away, they look as well ever deeper into the past — perhaps one day, sooner than we think, all the way back to the birth of the universe.
Ages

12, 13, 14

Interest Level

Grades 7 - 9

Publisher

Franklin Watts

Number of Pages

127

Genre

Informational Text
About the Authors
Kit Moser
Kit Moser specializes in writing about science and technology. As a journalist, she has covered NASA and related science activities.
The Reading Toolkit