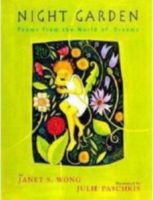 Night Garden
by Janet S. Wong Illustrated by Julie Paschkis
. . . dreams grow wild
Like dandelion weeds,
feathery heads alive with seeds —
and those fine seeds,
about to sprout,
race the day
to find their place
in a welcome mind . . .

And the dreams grow in an endless variety, same familiar things, some strange and beautiful, some on the darker side.
In this collection, Janet S. Wong, a widely known poet, records some of the many dreams she or her friends have had. She even watches her old dog while he twitches and growls and dreams in his sleep and finally yelps awake.
Illustrated by Julie Paschkis with paintings that reflect the glowing colors that can fill our dreams, these nighttime visions create a special garden, tempting to explore and evocative of dreams of our very own.
Ages

8, 9, 10, 11

Interest Level

Grades 2 - 5

Publisher

Margaret K. McElderry Books

Number of Pages

32

Genre

Poetry, Songs, Verse
About the Author and Illustrator
Janet S. Wong
Janet is the author of six picture books, and five poetry collections including the poem Albert J. Bell. Her poems have been reprinted in many textbooks and anthologies, as well as in some more unusual venues like subway signs.
The Reading Toolkit