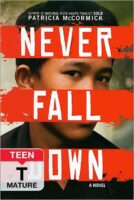 Never Fall Down
by Patricia McCormick
From National Book Award finalist Patricia McCormick comes a raw, powerful novel based on the true story of Arn Chorn Pond, a boy who survived the Killing Fields of the Khmer Rouge to become a human rights activist.
When soldiers arrive in his hometown in Cambodia, Arn is just a kid, dancing to rock 'n' roll, hustling for spare change, and selling ice cream with his brother. But after the soldiers march the entire population into the countryside, Arn's life is changed forever. He is separated from his family and assigned to a labor camp; working in the rice paddies under a blazing sun, he sees the other children, weak from hunger, malaria, or sheer exhaustion, dying before his eyes. He sees prisoners marched to a nearby mango grove, never to return. And he learns to become invisible to the sadistic Khmer Rouge, who can give or take away life on a whim.
One day, the soldiers ask if any of the kids can play an instrument. Arn's never played a note in his life, but he volunteers. In order to survive, he must quickly master the strange revolutionary songs the soldiers demand-and steal food to keep the other kids alive. This decision will save his life, but it will pull him into the very center of what we know today as the Killing Fields. And just as the country is about to be liberated from the Khmer Rouge, Arn is handed a gun and forced to become a soldier. He lives by the simple credo: "Over and over I tell myself one thing: Never fall down."
National Book Award finalist Patricia McCormick has crafted an achingly raw and powerful story based on the life of Arn Chorn Pond, a child of war who ultimately becomes a man of peace.
Watch a 10-minute profile of Arn Chorn Pond.
Praise for Never Fall Down
"Powerfully, hauntingly unforgettable."— Booklist (starred review)
"One of the most inspiring and powerful books I've ever read. Never Fall Down can teach us all about finding the courage to speak our truth and change the world." — Archbishop Desmond Tutu
Following the pattern of excellence McCormick began with her novel Sold, she has created another amazing story through skilled and patient research." — Voice of Youth Advocates (VOYA) (Starred Review)
"Arn Chorn Pond is a fast-talking dynamo with endless energy and zest for life. In Never Fall Down, Patricia McCormick captures brilliantly the man, his heart, and his passion to make Cambodia and our world a better place for all. Arn's against-all-odds survival story and McCormick's crisp prose gripped me from the first page to the very end." — Loung Ung, bestselling author of First They Killed My Father and Lucky Child
Ages

14, 15, 16, 17, 18

Interest Level

Grades 9 - 12

Publisher

HRP - HARPER COLLINS PUBLISHERS

Number of Pages

224

Genre

Historical Fiction
The Reading Toolkit