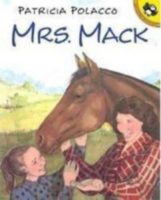 Mrs. Mack
by Patricia Polacco
Not only horse enthusiasts will find themselves misty-eyed at this heartfelt autobiographical story of a girl, her teacher, and one copper-colored horse. When ten-year-old horse lover Pat learns that her father has decided it is time for her to learn to ride, it is the beginning of an unforgettable experience. At first, when Pat arrives at the stables in the poor neighborhood of Dogpatch, she is disappointed and scared of the tough kids that live there. Upon the arrival of her charismatic riding teacher, Mrs. Mack, Pat is curious but intimidated. She doesn't feel like she belongs in Dogpatch, and is especially frightened of a mean-looking old man, Hap, who appears to be watching her every move. In time, Pat learns to ride, and falls in love with a beautiful buckskin mare named Penny. When Mrs. Mack finally feels Pat is ready to ride Penny, Pat courageously overcomes all of her fears and is able to canter with the rest of the Dogpatch kids. In one tense scene, Penny falls seriously ill, and it is none other than Hap who helps Pat rescue the mare in a surprising ending.
The best-selling author of Rechenka's Eggs and The Keeping Quilt has written a powerful, tale of overcoming fear, as well as a strong portrait of a remarkable horsewoman who devotes her life to teaching and helping children. Polacco's prose is sensitive, and her rich watercolor illustrations beautifully portray the close friendship between a girl and her horse.
Ages

4, 5, 6, 7, 8

Interest Level

Grades PreK - 3

Publisher

Tandem Library
About the Author
Patricia Polacco
Award-winning author Patricia Polacco has always been a phenomenal artist, but it wasn't until she was 41 years old that she started writing children's books. She writes in both Eastern European and mid-western American voices.
The Reading Toolkit