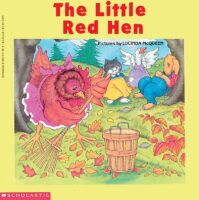 The Little Red Hen
by Scholastic Illustrated by Lucinda McQueen
A classic folktale about the hardworking hen and her freeloading friends, retold for beginning readers
The Little Red Hen works hard — all alone! — to turn her wheat seed into flour, while the goose gossips, the dog naps, and the cat preens. But when her lazy friends smell the fresh bread baking, they're eager to help her eat it!
In this easy-to-read rendition, even the youngest listeners will enjoy the classic folktale about hard work and its tasty reward.
Lucinda McQueen's active illustrations show in vivid detail how a few grains of wheat can be eventually made into bread. Her pictures perfectly capture the character of each animal of this classic folktale, while her simple storytelling teaches even the youngest readers important lessons about work and responsibility.
Ages

4, 5, 6, 7, 8

Interest Level

Grades PreK - 3

Publisher

Scholastic Inc.

Number of Pages

32

Genre

Classics, Fairy Tales, Folk Tales, Fables
About the Author and Illustrator
Scholastic
Scholastic Inc. is a global publishing and education company whose mission is to encourage the intellectual and personal growth of all children, beginning with literacy.
The Reading Toolkit