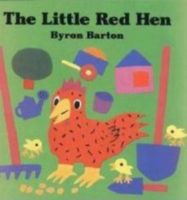 The Little Red Hen
by Byron Barton Illustrated by Byron Barton
In this easy-to-read folktale, Little Red Hen lives with a goose, a cat, and a dog. The goose gossips all day. The cat primps. The dog sleeps. So Little Red Hen is left to do all the work about the house. When she finds a few grains of wheat, she asks the others, "Who wants to plant these grains of wheat?" The goose, the cat, and the dog each answer, "Not I." The Little Red Hen plants and eventually harvests the wheat. Whenever she asks for help, the goose, the cat, and the dog answer, "Not I."
But when the Little Red Hen has the wheat ground into flour and then wakes early one morning to make the flour into bread, the others change their tune. As soon as they smell the baking bread, each animal offers to help eat it. Only then do they finally learn, that since the Little Red Hen was the only one who did all the work, then she is the only one who is allowed to enjoy its rewards. And without any hesitation, she eats the bread herself.
Lucinda McQueen's active illustrations show in vivid detail how a few grains of wheat can be eventually made into bread. Her pictures perfectly capture the character of each animal of this classic folktale, while her simple storytelling teaches even the youngest readers important lessons about work and responsibility.
Ages

4, 5, 6, 7, 8

Interest Level

Grades PreK - 3

Publisher

HarperFestival

Number of Pages

32

Genre

Fairy Tales, Folk Tales, Fables
About the Author and Illustrator
The Reading Toolkit