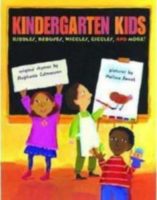 Kindergarten Kids
by Stephanie Calmenson Illustrated by Melissa Sweet
We're kindergarten kids!
That's who we are!
Keep your eyes on us.
We're going far!
Kindergarten is so much fun! There's singing, dancing, and show-and-tell. There are lively times to play with friends, and quiet times to look at books or put together a puzzle.
You'll find your favorite activities here, and more: Do the popcorn hop; go on a letter hunt; solve Halloween riddles; or find Mr. Wig, the missing guinea pig. Oops! Did you make a mistake? Don't worry, we all do — even teachers! Does a puzzle seem too hard? Don't give up. Keep trying! Is your tooth loose? Did it fall out? Hooray!
Cheerful rhymes, bright colors, and friendly children energize the pages of this action-packed collection of poems about kindergarten days. Come join the fun!
Ages

5, 6, 7, 8

Interest Level

Grades K - 3

Publisher

HarperCollins Publishers

Number of Pages

32

Genre

Poetry, Songs, Verse
About the Author and Illustrator
Stephanie Calmenson
Stephanie Calmenson is the author of more than 100 books, which range in themes from concept books such as Dinner at the Panda Palace and It Begins with an A to amusing reworkings of familiar stories such as The Principal's New Clothes.
The Reading Toolkit